Return to Headlines
Music program helps improve students' grades, emotions (Video)
CMSD NEWS BUREAU
1/28/2020
Students at Luis Muñoz Marin Dual Language Academy are learning to play the classical guitar, thanks to the Cleveland Classical Guitar Society's mastery program.
Students recently performed a musical recital of some of the songs they learned on the classical guitar. But some of the songs are far from classical.
One song they play is "Old Town Road" by Lil Nas X, which spent 17 weeks at No. 1 on the Billboard Hot 100 list.
Brian Gaudino, director of education for the Cleveland Classical Guitar Society, says finding music that can transcend genres is a way to get students interested.

"Then they become really interested in the guitar," said Gaudino. "Then later on down the road, they will be like, OK, what else is there?"
Gaudino says it is extremely important that every student have a chance to learn a musical instrument. "And, unfortunately, not all students do," he said.
The Cleveland Classical Guitar Society is trying to change that through its education program, which is funded by the Cleveland Foundation's Art Mastery initiative, the Gund Foundation and other contributors.
Currently, instructors are in 11 CMSD schools. The residency at Luis Muñoz Marin began 2016, with approximately 150 fifth through eighth graders currently participating. Assistant Principal Andrea Moss says it has changed the tune of many students.
"We've seen grades improve, we've seen behaviors improve, we've seen social emotional development just from participating in this program," Moss said.
Seventh grader Brittanie used to think music was a joke but now says that she likes it and that it helps calm her down on stressful days.
"I have rough days sometimes, and it helps me chill," she said.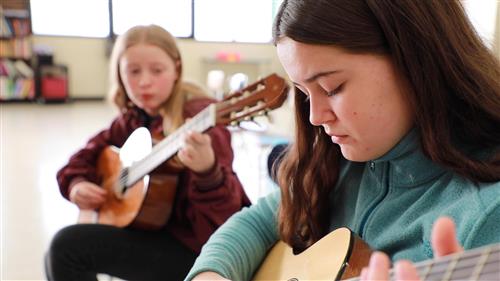 At just 13-years old, Serena has seen and experienced a lot of loss. She says her mother drowned when she was 5. Her great-grandmother also passed away and she worries about her dad.
"I just kind of feel bad for him cause he struggles a lot," Serna said.
Serena began attending Luis Muñoz Marin in September and has already fallen in love with the guitar and all it has to offer.

"When I started playing music, it made me feel like myself because when I was at my old school I was like depressed because my mom passed away." said Serna. "When I came here, I started playing music. I just felt better. It made me happy."
Moss says Serena is not the only student to feel better when playing the guitar.

"They're [the students] are learning to work together more," said Moss. "We've seen relationship building, kids are talking more, sharing more."
Moss says students sho participatd in the program have better attendance, as well as better grades.
"There is a correlation between learning to play a musical instrument and growing in mathematics and science," said Moss.
In March 2019, this program received national attention when CBS News highlighted a CMSD student named Damian and Cleveland Classical Guitar Society in its "A More Perfect Union" series.
Damian is just one of the success stories. Gaudino says other students are on their way.
"That is just one of the reasons why we do what we do," Gaudino said. "We really want to connect with the kids and find ways to let them express themselves so they can succeed both musically, at school and in every facet of their life."