MLK Day of Service @ CIHS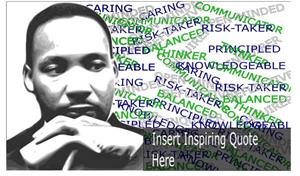 Our students are hard at work naming our ten "houses" that constitute the advisory structure at CIHS. Each "house" will contain two advisories (9th/10th or 11th/12th) and be associated with one IB Learner Profile trait as well as a freedom fighter from throughout history and around the world.
Join us on Martin Luther King Day (Monday January 21) as we engage in a service project and paint murals in the school for each of the ten houses! RSVP HERE.