Expand the Opportunity. Change Lives.

Cleveland teachers do more than deliver lessons: they work to ensure that every child reaches their full potential. We're looking for teachers who are driven by a passion to serve our diverse community of learners. We want educators who are excited to develop a corps of future first-generation college students, community leaders, and entrepreneurs. We want you to help build the future of our city.

Meet a Teacher:
Dean Bryson
PHYSICAL SCIENCE TEACHER, COLLINWOOD HIGH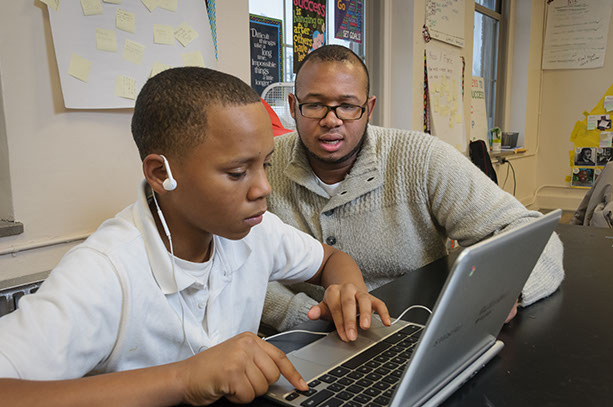 WHY CMSD? "There are a lot of inequities in this world. I believe if our kids are educated, those inequities will decrease."
"The students at Collinwood, there's so much potential in them. I want them to take control of their own lives."
Bryson planned to stay in Washington, D.C., where he went to college, but he came home to join CMSD and teach science, a high-need subject area.
" I really appreciate the direction in which CMSD is going. There are a lot of opportunities for growth."
---
Ricardo Torres
ASSISTANT PRINCIPAL, RIVERSIDE SCHOOL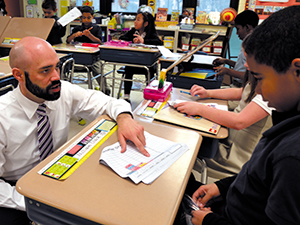 WHY CMSD? "I grew up in Cleveland. It means a lot more to do this work here."
"When you are working in a monstrous district like New York City, you can get lost in the system. Here, there's always someone to look to when you have issues and questions."
"I live in the Ohio City neighborhood. Cleveland offers everything you're going to find in a big city, but more convenient. I have everything at my disposal."
---
Taking Risks. Doing Whatever it Takes.
CMSD is bringing a startup culture to its schools. We're encouraging our educators to find cutting-edge solutions to improve student learning. From launching a large-scale blended learning initiative to creating small schools founded on mastery-based learning models, CMSD teachers are showing what educational innovation looks like in the 21st Century.
If you're an entrepreneurial educator, you won't be on your own in CMSD. Peers, principals, District leadership and the entire community will have your back. Through The Cleveland Plan, CMSD has dramatically increased the amount of feedback and support teachers receive for their classroom instruction. We've strengthened ties with the business community so you can expand your students' learning beyond the classroom. We've created new opportunities for great teachers to grow into school leadership roles.
A portfolio school model is an integral part of The Cleveland Plan, so you'll always be able to find a place that's exactly the right fit. Enthusiastic about cultivating the next generation of doctors? Committed to promoting global citizenship? Passionate about growing young women leaders or supporting the My Brother's Keeper initiative? At CMSD, there's a school for that.
Valuing Educators like Professionals
As a Cleveland educator, you are community builder. Your work lays the foundation for the future of our city and our country. CMSD pledges to value you like the professional you are.
We offer a starting teacher salary of $45,915, as well as a generous and comprehensive benefits package, including medical, dental, vision and disability coverage, life insurance, flexible spending account options and paid vacation time. Our total rewards package affords Cleveland teachers the ability to own homes, raise families, and enjoy all the perks of living in a booming city that has maintained a low cost of living.