Return to Headlines
Baker students' art to appear on billboards
CMSD NEWS BUREAU
7/7/2016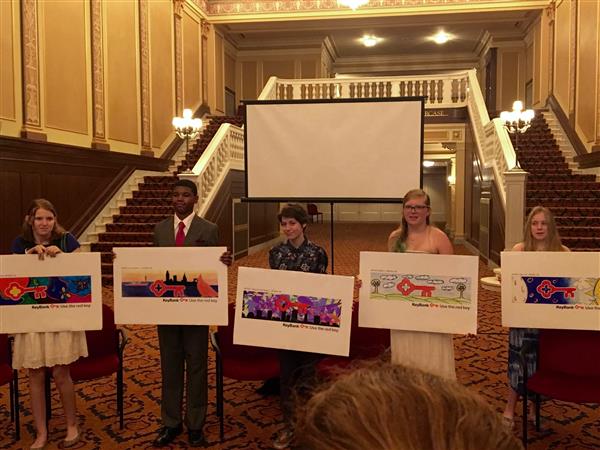 CMSD students will get an opportunity to show off their artwork when all eyes are on Cleveland during the 2016 Republican National Convention.
Pieces created by six students from the Newton D. Baker School of the Arts and Cleveland School of the Arts will be displayed on billboards throughout the city during the convention, which is expected to bring about 50,000 visitors to Cleveland from July 18-21.
KeyBank hosted a contest inviting CMSD students in grades 7-12 to submit original artistic designs that incorporate the bank's iconic red key logo. The winning pieces were unveiled this week at a ceremony at the Ohio Theatre at Playhouse Square with the students and their families.
KeyBank marketing director Tom Wennerberg says the contest was a way to take advantage of national attention on Cleveland to showcase the children and their artistic talent.
"As you look across town over the next couple of weeks, we really think your art is going to pop and really make a statement," Wennerberg told the students, "Not only about the skills and talents that you have, but also a statement to the testament of Cleveland being a rich, vibrant community that supports the arts -- with some very talented kids."
The billboards are set to go up July 11 and will remain the entire month of July. The art will mainly appear on print billboards near freeways across the city. One digital billboard near the George V. Voinovich Bridge will feature all five images in rotation.
The students used a range of approaches and techniques, including Photoshop, colored pencils and permanent markers, to create unique advertisements. For many students, the billboards are the biggest opportunity they've ever had to showcase their art.
"It's going to be really neat to see the work that I've worked on on billboards."said Adrian Passov, who collaborated with classmate Biagi Calicchia on a Photoshop design.
Passov said the design was inspired by Cleveland's colorful culture.
"The colors are the vibrancy of Cleveland, the life that this town has," Passov said.
KeyBank executives awarded each winning student a $500 Key Possibilities Gift Card. The winners were also given four tickets each to an Aug. 14 Cleveland Indians game, where their pieces will be displayed on Progressive Field's giant scoreboard before the game.
To demonstrate their commitment to supporting arts education in Cleveland, the bank also presented $1,000 checks to both Newton D. Baker and Cleveland School of the Arts.
Wennerberg said that he looks forward to seeing what the children accomplish in the future and that there may someday be spots on the bank's marketing team for the aspiring artists.
"We can't wait to see more work and more art from all of you as the years go on," Wennerberg said.