Return to Headlines
Willson washer, dryer help students in need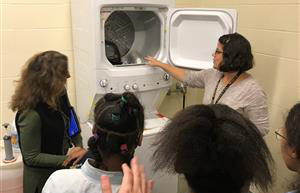 Willson PreK-8 School staff and students check out the school's new washer and dryer.
CMSD NEWS BUREAU
10/16/2018
Willson PreK-8 School held a ribbon cutting on Tuesday – for a washer and dryer.
The appliances will be used to clean and dry dirty uniforms, which are often cited as a reason why CMSD students miss school. Residents also can do laundry at Willson at certain times.
Washers and dryers are taken for granted in many homes but can be a luxury for families in need. Just ask Willson instructional aide Rochell Hester, who has been washing and drying a full load or two of student uniforms at home every Friday for nine years.
"They don't have a washer or dryer," said Hester, who also manages a "care closet," where an average of two or three students go daily to pick up donated items such as soap, toothpaste and socks. "They sometimes don't have running water."
Enter Willson physical education teacher John Dorotics, who wrote a proposal to ward Councilman Basheer Jones. Jones purchased the washer and dryer.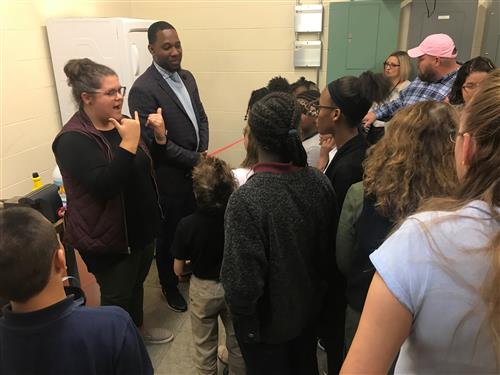 The councilman spoke at the ribbon cutting, telling students that his family lacked a washer and dryer when he was young and that his clothes were sometimes a source of embarrassment. Teachers relayed his remarks in sign language to the students, who are in a hearing-impaired program that makes up part of Willson's enrollment.
"This is yours," he said of the new equipment. "You have to take care of it."
Leaders of the CMSD's "Get 2 School. You Can Make It!" attendance campaign list a shortage of clean uniforms as one of the reasons why District students miss school. The Cleveland Browns Foundation, the campaign's signature partner, has aided by donating "Special Teams Packages" that contain uniforms and casual clothing.
Students who come to school in dirty uniforms will be allowed to turn the clothes in for washing after changing into donated uniforms that Willson keeps on hand.
Residents will have to sign up through the school but will have to do their washing and drying after school or during special night or weekend events.
"It won't be like a laundromat where people can just walk in," he said. "It will be structured."
Dorotics has been the driving force behind other projects that have made Willson more of a community hub. These include new community gardens, a fitness center and monthly food distributions.
During "Friday Night Lights," which Jones sponsors, the school is open from 5 to 7 p.m. most Fridays for activities like open gym, use of the fitness center, computer lab, resume writing and children's story time.
Have a story idea for the CMSD News Bureau? Email it to newstips@clevelandmetroschools.org.