Return to Headlines
Fudge hears students on community violence
CMSD NEWS BUREAU
10/16/2015
U.S. Rep. Marcia Fudge went to high school students Friday to get their perspectives on recent violence in the Cleveland area, and she promised to continue listening to them on issues.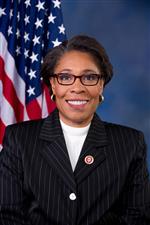 More than 200 high school students, most of them from CMSD, gathered for a "Silence the Violence" listening session that the 11th District congresswoman hosted at at the Cleveland Public Library's Memorial-Nottingham branch.
The meeting dealt with violence in the community, not the District's schools. With the help of tight security and strong support programs, schools have seen a sharp decline in serious incidents in recent years.
Fudge asked that comments made by individual students remain private, but the collective feelings of isolation and despair were clear. Afterward, she said she was amazed at how many of the teenagers felt they had no adults to confide in about trouble, for fear word would get around and they would be viewed as snitches.
"Ninety percent of them said they had no one they can trust," the congresswoman said. "If anything shocked me today, that shocked me."
Fudge also announced that she will form a youth advisory council made up of a dozen or more 11th- and 12th-graders from her district. An application will be found online at fudge.house.gov, starting Nov. 12.
The council will meet monthly and provide the congresswoman with input on issues. She also wants the teenagers to serve as examples for their peers.
"I want them to be role models and get into the community to do things and be visible," she said. "Kids today can't see success, so they have no hope. They need role models."