Return to Headlines
District tests new approach to conferences (video)
CMSD NEWS BUREAU
10/30/2015

Parents and teachers at four of CMSD's K-8 schools are working as teams to raise students' academic achievement.

As part of a pilot program, Mary B. Martin, Willow, McKinley and Wilbur Wright schools have replaced conventional parent-teacher conferences with a series of workshops for parents of students in kindergarten and first grade.

Instead of brief individual meetings once or twice a year, teachers and parents will come together as Academic Parent Teacher Teams for a series of three 75-minute sessions. Parents will review their children's data, set goals for the students and practice activities they can use to reinforce lessons at home.

"What we want to do is deepen the conversation with parents about how students are doing," said Tracy Hill, the District's executive director of family and community engagement. "You are creating this community of parent learners." Hill hopes to expand the program next year.

The schools held their first workshops Thursday while other K-8 buildings conducted traditional conferences. Teachers will follow up individually with parents before hosting additional workshops in February and March.

McKinley kindergarten teacher Julie White worked with a small group of parents and caregivers during an early afternoon session. Another session was scheduled later in the day.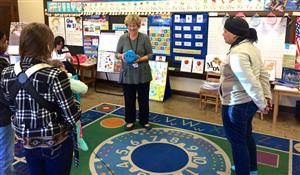 White and helpers first participated in an icebreaker, a game the students play so they can learn a little about each other (see photo, right). She then showed them how to interpret their students' test scores and taught them several phonetic games to play at home. Several classroom helpers (see photo, below), assisted caregivers in mastering the games and interpreting data.

"I think the things we did were really fun, and if I enjoy them my grandson will enjoy them," said Madeline Smith, who said she cares for her daughter's son while the daughter works. "I'm actually kind of excited to get home and play with him so I can help him where he is struggling, especially now that I have some better information of what he is struggling with."

Parent Felicia Narramore said she was initially hesitant about a group parent-teacher conference but said she liked it because she gained more context about her child's challenges in relation to the other students.

"It's cliché to say, 'I takes a village,' but it's really true," she said.

White, a 25-year teaching veteran, said she was satisfied with the first APPT session.

"We are a team, we must be a team in order for this to work," she said. "I've always believed this, and it's always been true, but this program is a great way to help coordinate that. I really believe it's going to take off because it's a great idea."

Maria Paredes developed the team concept in 2009, when she was working as director of family and community engagement for the Phoenix schools and conducting research for a doctorate.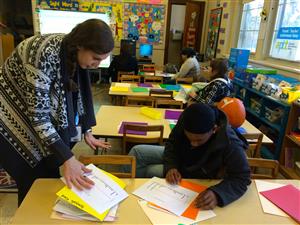 The strategy is now employed in 250 schools spanning 17 states, Paredes said. She said research shows that students whose parents are part of Academic Parent Teacher Teams show more growth than peers whose families do not participate.

"It really empowers families, and it empowers the teachers," said Paredes, who now heads family and community engagement for WestEd, a San Francisco-based nonprofit research, development and service agency that is assisting CMSD with the pilot. "It gives families a clear picture of what learning can look like in the classroom."

Wilbur Wright Principal Virmeal Finley said teachers at the school are "gung-ho" about the change in format and eager to see how parents respond.

"So many times, parents come to a parent-teacher conference and they're passive," Finley said. "This will actually allow them to have a conversation with the teachers and understand what those numbers mean. They will learn how to really dig down deep at home to help their children."

Wright teachers addressed one key skill Thursday – fluency in letter sounds for kindergartners and the reading of sight words for first-graders.

Kindergarten teacher Kim Francescone started with a slide presentation and icebreaker activities that stressed the importance of the skill.

Francescone then showed the group individual students' data – coded to maintain privacy – so parents knew where their son or daughter stood.

Willow Principal Lisa Williams-Locklear said the school alerted parents to the new approach in newsletters, phone calls and face-to-face conversations. She said they seemed eager to do their part.

"We really feel we are going to experience some growth in achievement because we have the parents working along with us," she said.