Return to Headlines
Molly Day performances inspire, wow crowd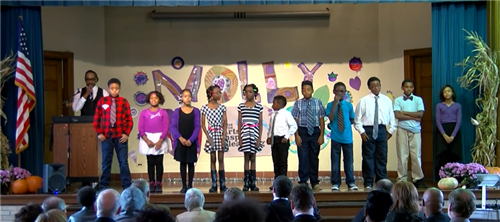 CMSD NEWS BUREAU
11/9/2015
Molly Day always delivers.
The rousing, heartfelt and sometimes hilarious student performances held annually at
Oliver H. Perry School
to memorialize the late daughter of retired U.S. Sen. George Voinovich and his wife, Janet, are a highlight for many, including District CEO Eric Gordon.
"This is one of my favorite days of the year," Gordon told a cafeteria crowd of more than 100 people Friday morning.
His remarks followed what could only be described as a neo-variety show that included traditional recorder music, a drumline, high-steppers, math-based storytelling, a faux senatorial debate, nosy newspaper reporters and finally the pure bedlam of a group dance number finale to support the District's attendance initiative. You can view the performance in its entirety
here.
"This is one of my favorites because we get to see our tremendous students doing the great things they do every day here," Gordon said. "But let's also make sure we remember that this is what goes on in every CMSD school, every single day and that's why they are committed to being here every day."
The CEO's last comment was one of many Friday referring to the District's "Get 2 School. You Can Make It!" campaign. Several of the student performances gave a nod to the attendance initiative, including a show-stopping "At10Dance," which Gordon had kicked off at the start of the school year with a YouTube video.
Molly Day has been a tradition at the Cleveland Metropolitan School District K-8 school for decades as a way to honor the memory of Molly Agnes Voinovich, who was struck by a vehicle and killed on Oct. 8, 1979.
The Voinovich's 9-year-old daughter had been student in the gifted and talented program at Oliver H. Perry, which is beneficiary of the interest each year from the Molly Fund, administered by the Cleveland Foundation.
Each year a second school in the city is also selected to receive funding. The gifted and talented program at Whitney M. Young Leadership Academy was this year's co-recipient. Both schools received about $3,500 this year.
"We are so excited about this," said Whitney Young Principal Karen Byron-Johnson. "Right now we have students who are writing plays, writing music and writing their own songs, but now we will have the money to get things like a sound system, some new instruments and some of the scripts they want to explore."
New Oliver H. Perry Principal Ann Priemer said she was wowed by her students Friday.
"I think the most powerful thing for me was realizing how much the kids loved being on stage, how happy they were to be performing," she said. "Gosh, I would love to be able to bring more arts education into the school, and this money will help with that."
Oliver H. Perry is one among 11 schools in partnership with the Center For Arts Inspired Learning. The center's Jimmie Wood orchestrated much of Friday's show.
"I played a part, but it's their hands that are all over it," he said. He said he had been working with the school's performers once a week since Sept. 1.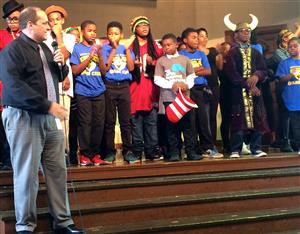 "We have a tremendous number of gifted and talented kids, and we also have some others who may not have been given that, but who grown by their exposure to the arts – to acting, to music and dance," he said. "And they memorized their lines impressively."
The Oliver H. Perry students handled most of the performances. Students from Whitney M. Young took the stage for "The Education Song," a lyrically re-worked version of Bruno Mars "Grenade."
"I'll go to college and I'll get a good grade for you," a stageful of students crooned to an appreciative crowd. "I'll even get straight A's for you. You can't distract me, baby, I need to educate."
Voinovich picked up on that theme, reminding the students in his closing remarks that perseverance pays off.
"You stay, you work hard in this program, and you are going to go way out there, you are going to do really great," he said. "I have this saying, that if you do a good job with the job you have, the future will take care of itself."
It seemed to work for Voinovich. The retired Republican senator had a long and varied career in the state. He was mayor of Cleveland from 1980-89, served as Ohio's governor from 1991-98 and was a U.S. senator from 1999
until retiring in 2011.
"So you know what your job is, right?" he said. "You get to school, stay in school, work hard, get good grades and the future will take care of itself."