Return to Headlines
CMSD authors re-imagine Dickens' "A Christmas Carol"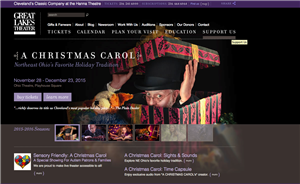 CMSD NEWS BUREAU
11/12/2015
Every year some of Cleveland Metropolitan School District's most creative and daring scholars take a crack at reinventing the theater version of the beloved holiday classic, "A Christmas Carol" by Charles Dickens, as part of a Great Lakes Theater contest.
They rarely disappoint, coming up with fantastically reworked tales. Examples have included telling the story from the three ghosts' point of view and a variation in which Tiny Tim goes missing and Scrooge jets around the world to find him.
This year, The
Great Lakes Theater
has selected 41 winning stories from students in sixth through eighth grades at 21 CMSD schools. Almost 1,600 entries were submitted.
The theater company began the writing contest
in 1989, and each year an average of 2,000 students from more than 50 CMSD schools enter. Each school submits one winner per grade level to the theater's education department, and a panel of local educators, artists and community members names six grand-prize winners, two per grade level.
All the winning students, their families and teachers will be recognized Dec. 5 at Kennedy's Theatre in Playhouse Square. The grand-prize winners will receive free tickets to "A Christmas Carol" and other prizes. The play runs Nov. 28-Dec. 23 at the Ohio Theatre.
Tickets are available online.
Some of the student writers will also be interviewed by host Dee Perry on "The Sound of Applause" on WCPN 90.3-FM. The station will also play clips, performed by professional actors. Dates and times are yet to be announced, but the station often replays the interviews and performances as part of its Christmas Eve programming.