Return to Headlines
Aspiring Principals Academy recruiting new class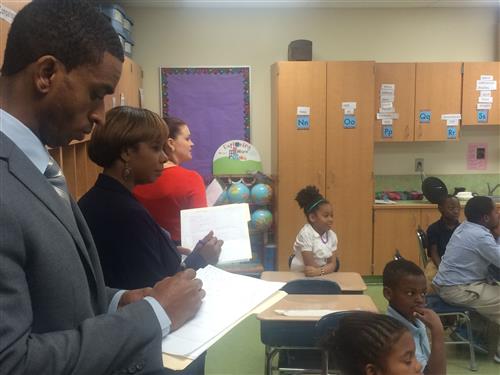 CMSD NEWS BUREAU
12/17/2015
CMSD continues to build a corps of school leaders who are passionate about urban education and willing to spend a year proving they have what it takes to be successful.
The District's Aspiring Principals Academy is taking online applications for its third annual class. At least 10 candidates will be chosen to serve paid, yearlong residencies alongside a mentor principal.
The program begins with a five-week summer boot camp, or "intensive," which, by all accounts, is an apt description. Candidates are put to a rigorous test, facing situations at a fictitious school that is based on data from a real CMSD school.
During the residency, the Aspiring Principals will participate in all aspects of leading their schools and may be assigned major responsibility in areas such as discipline and family engagement. They also meet weekly as a group for training or to conduct classroom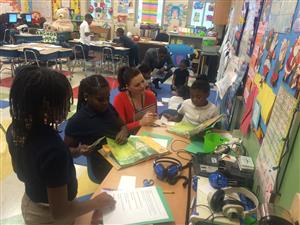 observations. (See photos above and at right) The Aspiring Principals will receive feedback and reflect on their performance as they face the year's challenges.
At the end of the year, the residents apply for leadership positions but are not guaranteed employment. Six of the first class's 10 members became principals and two were appointed assistant principals.
The
NYC Leadership Academy
, a school leadership training program based in New York City, helped create the Cleveland academy and has blogged about Cleveland in stories that can be found
here
and
here
.
At a recent meeting, the second class listened to a history of
The Cleveland Plan
presented by education program officers Helen Williams of the Cleveland Foundation and Ann Mullin of the George Gund Foundation. The foundations were instrumental in developing the plan, a sweeping citywide blueprint for education reform that shifts a large share of authority to individual schools and gives principals much more responsibility for programming, hiring and spending.
"The future of the District is really in your hands," Williams said.
Renee DiBiasio, an Aspiring Principal assigned to the Cleveland School of the Arts, told Mullins and Williams that the training she has received through the program has given her confidence that she will be prepared to lead.
"I think the experience, so far, is more than I could have asked for in professional development," said DiBiasio, who previously worked in Arizona but has roots in the Cleveland area.
The residency pays $75,000 a year plus benefits. Successful candidates must commit to working in the District for five years.
Information also will be available at meetings scheduled for 4 p.m. Wednesday, Jan. 27; Tuesday, Feb. 16; and Thursday, March 10 at the East Professional Center, 1349 East 79th Street.