Return to Headlines
American Graduate winners overcame challenges (photo gallery)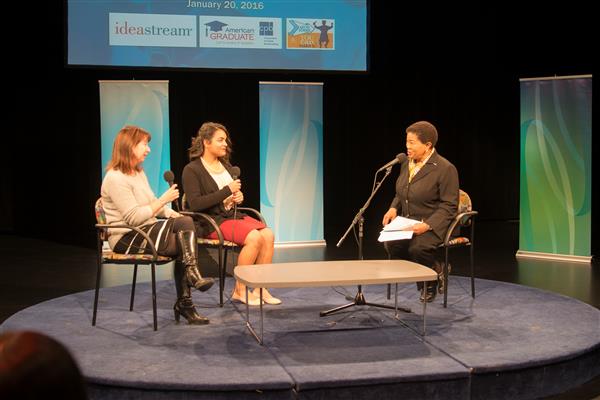 CMSD NEWS BUREAU
2/3/2016
CMSD's attendance campaign sends a message to students that they need to get to school, despite obstacles, and ideastream has saluted a group of teenagers who clearly share that belief.

The not-for-profit multiple-media organization, which includes WVIZ Channel 25 and WCPN 90.3 FM, recently honored five CMSD seniors picked as regional winners in the American Graduate Storytelling Contest.

The contest, like others staged in PBS markets across the country, solicited essays from students who could have dropped out of school but persevered through academic, emotional, physical and social challenges to make it through high school. Ideastream also put the spotlight on the adult champions – a teacher, parent, coach or grandparent -- whose encouragement made a difference.
One by one, the students took the stage at the Westfield Insurance Studio Theater in ideastream's Playhouse Square headquarters, sometimes with their champion. They told host Dee Perry how they dealt with academic struggles, a learning disability, language barriers, taunting and bullying.
Kevin, the son of Mexican immigrants, credited his mother for pushing him to push himself. She taught him not to be defined by others' stereotypes.
"It's not how people see you," said Kevin, who plans to study business in college. "It's who you are, it's how you present yourself to the world."
Rimeca overcame dyslexia and holds a 3.8 average. She attributed her success to a grandmother, now deceased, who told her she was capable, drilled her in reading skills and prodded her to read scriptures in front of a congregation.

"She's still here in spirit," said Rimeca, who aspires to become a child psychologist. "I think about her every day when I have to get up and go out in the cold. She's the reason I keep on pushing."
Andrea Gale, who teaches English as a second language and serves as the journalism advisor at Lincoln-West High School, worked with 23 students who entered pieces in the competition, including six of 30 finalists. She said the students have confronted a wide range of challenges -- ESL students dealt with living in refugee camps, leaving their native countries and feeling at a disadvantage in their new home; others contended with socioeconomic conditions, health problems or the responsibilities of being a parent.
Gale said she had to persuade students to even enter. She said they were pessimistic about winning because they "weren't honors students."
"I see them every day; I know how intelligent they are and how well they can write," Gale said. "I believe in my students, but I need to be able to make them believe in themselves."
The students drew praise from CMSD Chief Executive Officer Eric Gordon and Cuyahoga Community College President Alex Johnson.
Cuyahoga County Juvenile Court Judge Michael J. Ryan delivered the night's keynote address, describing his own tumultuous childhood.
He told of moving from school to school – he went to 11 school from kindergarten through 12th grade -- surrounded by addiction and violence. His mother, who struggled with drug abuse, gave birth to him at 14 and died at 28.
Ryan said he found his refuge in school, with teachers who wouldn't allow him to waste his talent. He challenged the contest winners to be champions for others.
Ideastream's contest drew 161 entries. Ideastream, partners and sponsors provided 30 winners with $10,000 in scholarships and prizes.
The contest added another incentive to CMSD's
"Get 2 School. You Can Make It!"
campaign. The District launched the campaign in July to reduce chronic absenteeism, a problem that affects schools across the country.
At the end of the first semester, the campaign was
on course to achieve its goal
: a 10 percent reduction in the number of student who miss 10 or more days in a year when compared with the average from the three previous years. Eighty of CMSD's 100 schools reported higher attendance.
The campaign's message adorns billboards and yard signs; it can be heard on spots contributed by Radio One. Volunteers have called and visited the homes of students at risk of missing more than 10 days per year.
The Cleveland Browns headline a list of partners. Browns players have recorded automated phone and video messages encouraging students to get to school.
Tri-C President Johnson has announced that the college will award
full $2,500 scholarships
to 28 seniors – one from each CMSD high school with a graduating class this year. The scholarships, which can be renewed for a second year, will be based on students' attendance and academic records.