Return to Headlines
Vote will test commitment to reform, mayor says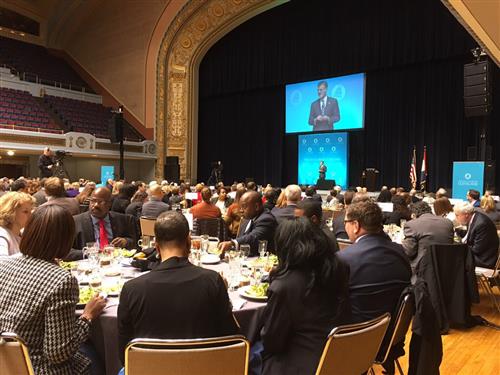 CMSD NEWS BUREAU
3/10/2016
November's vote on extension of a CMSD operating levy will show how determined voters are to have real education reform, Mayor Frank G. Jackson said March 10 in his annual State of the City address.
The community came together in 2012 to approve the first new operating levy in 16 years and fund sweeping changes charted in The Cleveland Plan, said Jackson, who heads the only mayor-controlled district in Ohio. Two years later, people united again to pass a bond issue for school construction and renovation.

November's vote will "test our resolve to have true reform," the mayor told an audience that the City Club of Cleveland convened at Public Auditorium. He said it also would provide the chance for a vote of confidence in the schools' direction.

The mayor pointed to evidence of the District's progress, though he said more needs to be accomplished.
The list included
expansion of high-quality preschool
by the District and partners in the PRE4CLE network, a rising graduation rate that stands at a record 66.1 percent and g
rowth that led a group of urban systems
on the most recent National Assessment of Educational Progress, also known as the Nation's Report Card. Jackson also noted that 86 percent of last year's third-graders met Ohio's
Third Grade Reading Guarantee
and that 23 low-performing Investment Schools made gains in reading and math during the first half of this school year.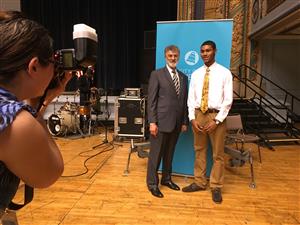 During a question-and-answer period, Julian Huff, a sophomore at CMSD's
New Tech East
, asked the mayor how what he learned in high school had contributed to his success.
(See photo of mayor and Julian at left)
The mayor said he struggled in high school, but after serving in the military, he went to college and earned associate, bachelor's, master's and law degrees. He said both periods of his education played a role in his achievements.
Julian, an A student who regularly attends City Club forums, was pleased with the response.
"It shows that even if you fail, you can keep coming back," he said.
Councilman Matt Zone said Jackson's remarks about education were the highlight of the address. He, too, liked the way the mayor handled Julian's question.
"He self-acknowledged he wasn't the best student in high school, and through life lessons, he was able to endure, come back, graduate from high school, go on to community college, get his master's degree and his law degree," said Zone. "Not only are we educating young peoples' minds, but we need to educate their hearts and their souls."