Return to Headlines
Zohn named top operating officer
CMSD NEWS BUREAU
4/18/2016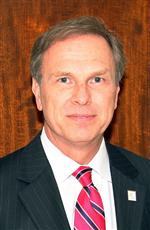 Chief Operating Officer Patrick Zohn has received the Distinguished Service Award from the Council of the Great City Schools, making him the group's COO of the Year.

The council represents 68 of the nation's largest urban school districts. Zohn received the award last week at a conference in North Carolina.

Zohn often reminds Operations employees that many of them are likely to be the first person a student encounters each day. He thanked his entire division, saying:

"This award is for the cleaners who late at night make sure our buildings are ready for the next day.
For the security officer who comforts a frightened child and is grateful they ran to them, not away from them.
For the bus drivers who start their students' day with a smile in the morning and a "take care" in the afternoon.
For the food-service workers who greet children with a comforting grin and warm food.
For the movers who take extra care of a special memento.
For the trades person who takes the extra effort to make the repair perfect.
For the custodian and assistant custodian who come in early on a frigid morning to warm a child's world.
For the mechanics who check the repair and then check it again so our kids' ride is safe.

To all of you this is your honor, our collective recognition that we are doing good and noble work in service to the highest of callings -- taking care of children."
Zohn was appointed chief operating officer six years ago. He previously was a principal in the Gateway Consultants Group, acting as consultant on construction projects, and was a trial attorney for the U.S. Department of Labor.