Return to Headlines
Three schools win Momentum Awards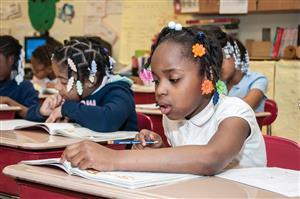 CMSD NEWS BUREAU
5/25/2016
Three CMSD schools have been recognized by the Ohio Department of Education for exceeding expectations in student academic growth.
Harvey Rice, Miles Park and Charles Dickens schools were among 165 schools in the state that earned Momentum Awards for the 2014-2015 school year. The most recent state report cards are based on data from that year.
To earn a Momentum Award, schools must earn straight A's on all value-added measures on the state report card. The schools must also have at least two value-added subgroups of students, which include gifted students, disabled students and the students who rank in the lowest 20 percent for reading and math achievement.
Miles Park Principal Tamika Taylor-Ivory credited a boost in technology for the improvements the school made last year.
The addition of a computer lab with 28 units opened new opportunities for both teachers and students, Taylor-Ivory said. The school made it mandatory for students to use technology at least two periods per week
Taylor-Ivory said the addition of nine staff members allowed teachers to focus more resources on special-needs students, who make up 28 percent of the school. This meant that students with social and emotional issues receive the attention they needed.
Further, an additional set of tutors meant more one-on-one sessions for students who needed extra help, the principal said.
Charles Dickens Principal Lisa Braxton said increased attendance is part of the reason her school surpassed expectations.
Braxton said Charles Dickens zeroed in on improving attendance during the 2014-15 school year. Staff made home visits when students didn't show up and tried to identify the reasons.
"Our parents know how much we care, and that's why they send them," Braxton said.
The school's efforts paid off, Charles Dickens' attendance rate reached 91.2 percent.
Braxton said also credited new teachers who were willing to learn new skills and apply them in the classroom.
The awards recognize the sort of dramatic student achievement gains laid out in The Cleveland Plan, a blueprint for strategic reform across the school district.