Return to Headlines
Next class ready for principals academy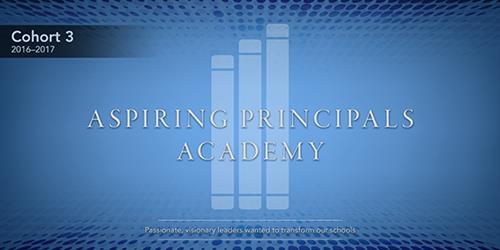 CMSD NEWS BUREAU
6/1/2016
CMSD's Aspiring Principals Academy has selected 10 new prospective principals and will begin putting them to the test later this month.

Members of the academy's class of 2017, the third class since the program began, will spend a year as apprentices in schools under the supervision and guidance of seasoned principals. They will perform many of the same tasks that would otherwise be handled by their mentors.

But first they will go through a five-week boot camp that starts June 28. The aptly named "summer intensive" challenges the aspiring principals to make decisions under simulated conditions at a fictional urban school.

The group includes eight women and two men were chosen from among 124 applicants. Five of the 10 are from Ohio, while the others come from New York, Oklahoma, Tennessee and Florida. Two of the out-of-staters are Ohio natives.

Two are African-American; two speak Spanish and another Arabic, languages common to the District. Four taught for CMSD during the past school year and two are District graduates.

The group "had done their homework about our program and what it's all about," said Heather Grant, who oversees the academy and other support for new principals. She said they also demonstrated a strong work ethic and and commitment to social justice.

"They specifically wanted something that was rigorous and would give them a rich experience to prepare them for a principalship in Cleveland," she said. "They also all really wanted to be specifically in Cleveland and take part in the change occurring under The Cleveland Plan."
The Aspiring Principals Academy helps comply with
The Cleveland Plan's
call for attracting and developing high-quality leadership. It also makes sure they are up to the task.
The program was developed with help from the
NYC Leadership Academy
. NYCLA began training and supporting New York City school leaders in 2003 and now provides consulting services to school districts, state departments of education, universities and nonprofits in 26 states, Colombia and Brazil.
Graduates of the Cleveland program have no guarantee of jobs with the District after their year in training, but of the first 20 picked for the academy, most have stayed or are expected to stay with the District as principals or, in a few cases, other administrators. Four candidates did not finish the academy.
CMSD pays the candidates $75,000 a year plus benefits. They commit to working five years for the District and must repay a portion of the money received during training if they fail to keep that commitment.