Return to Headlines
Players take to new turf field (video)
CMSD NEWS BUREAU
8/1/2016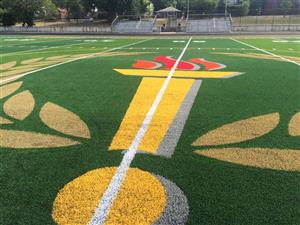 No games have been played, but CMSD football players have begun practicing on some of the five new synthetic-turf fields that the Cleveland Browns are installing for the District.
Teams were cleared to practice on the fields at Bump Taylor and Roye Kidd stadiums after representatives of the Browns and CMSD inspected the work Monday. A third field, at James Ford Rhodes High School, could be ready next week.
Glenville practiced Monday afternoon at Bump Taylor, and players "came out with a whole different attitude knowing we have something new to play on," said Demerius Goodwin, a running back and defensive back. The Tarblooders' home games were moved from Bump Taylor to the Collinwood Athletic Complex last season because concrete bleachers needed repairs that will be completed before play begins next month.
"It's such a beautiful field," Goodwin said. "I feel like it's going to bring the community closer and our team closer."
The Browns announced in May
that the team would donate five turf fields and pay for the installation. Owners Jimmy and Dee Haslam said they were inspired to act after hearing schools Chief Executive Officer Eric Gordon talk about the link between academic achievement and participation in extracurricular activities.
Fields are also planned for John Adams and John Marshall high schools, but not for this season. The District must first identify sources of funding to replace stands and other facilities at John Marshall and build new at John Adams, which for now has only vacant land.
The new fields feature the Senate torch symbol at midfield and the league name in white letters set against end zones colored Browns orange. A Browns helmet adorns the turf at the 25-yard line.
The 10 Senate Athletic League teams will share the fields. The fields also will be available to physical-education classes and soccer and youth football teams.
The first Senate football games at the new fields will be played on Friday, Sept. 16, all at 3 p.m. John F. Kennedy will play John Marshall at Roye Kidd, Glenville will take on Rhodes at Bump Taylor and Lincoln-West will play East Tech at Rhodes.