Return to Headlines
Teachers train to build AP pipeline
CMSD NEWS BUREAU
8/5/2016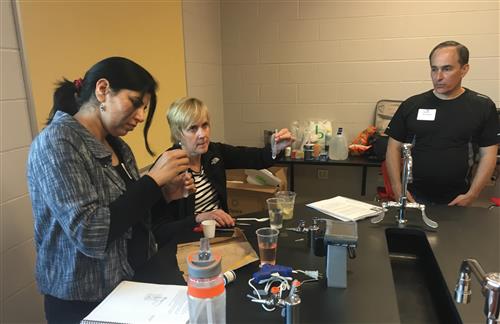 CMSD is taking a bottom-up approach to boosting student achievement in Advanced Placement courses.
About 130 teachers this week took part in a training through the National Math and Science Initiative. Teachers for grades 3-12 spent four days at John Marshall High School with master teachers from across the country who are trained to equip teachers with the instructional know-how they need to set high classroom expectations and shift students to higher levels of thinking.
The aptly named Laying the Foundation workshop is based on the idea that teachers at the elementary and middle-school levels need to prime students for AP work so students are equipped to handle the workload and expectations when they reach high school and college, said CMSD Deputy Chief of Curriculum and Instruction Karen Thompson.
"We've been trying to build AP courses in our District, but we haven't been focusing on building the foundation," Thomas said. "So students will come into an AP class not having the foundational skills they need for the rigor of an AP class."
This presents a challenge for both students and teachers tasked with teaching one demanding curriculum to a group of students all at different levels of preparedness, Thompson said.
The LTF program was offered to all teachers in the District and paid for by a NMSI grant.
Master teachers led CMSD educators through model lessons and hands-on projects while engaging in discussions about challenges of urban education.
On Tuesday, as a group of high school biology teachers passed around ears of corn for a lab on dominant and recessive traits, they asked the master teacher about how to help chronically absent students catch up with their peers when they miss science labs.
Across the hall, a room of high school math teachers learned how to make math lessons more interactive.
Glenville High School algebra teacher Kimili Gulley says she wants to use what she learns at LTF to help take the fear out of math.
"I would like to see them be deeper thinkers and not be intimidated by what may seem to be a hard problem just because it may be wordy," Gulley said. "I'd like to see them tackle problems head-on without being intimidated."
Randy Hrabak, who teaches math at Mary M. Bethune School, says that because of the training he plans to weave more hands-on activities into his lessons.
"It's going to really help the kids develop a deeper conceptual understanding of the topics that we're covering already in our current SpringBoard curriculum," Hrabal said, referring to College Board's print and online program used by CMSD teachers in grades 6-12.
These teachers are members of the first of three cohorts who are expected to move through the LTF program the next three years.
To track the impact of LTF, Thompson said all of the teachers will meet four times a year. The schools will also work closely with NMSI mentors to develop a timeline based on teachers' individual goals. At the end of the school year, the District will compare the progress of students whose teachers completed the training with their peers whose teachers did not take the training.
The LTF workshop is part of a four-year CMSD partnership with NMSI. LTF is designed to support NMSI's College Readiness Program, which CMSD joined in the spring after NMSI received a $20 million federal grant. The College Readiness Program is aimed at helping students master AP classes and tests.
This fall, NMSI will bring its three-year College Readiness Program to Cleveland Early College High School, the Cleveland School of Architecture and Design, the John Marshall School of Information Technology and James Ford Rhodes High School.