Return to Headlines
Student summit helps break barriers with police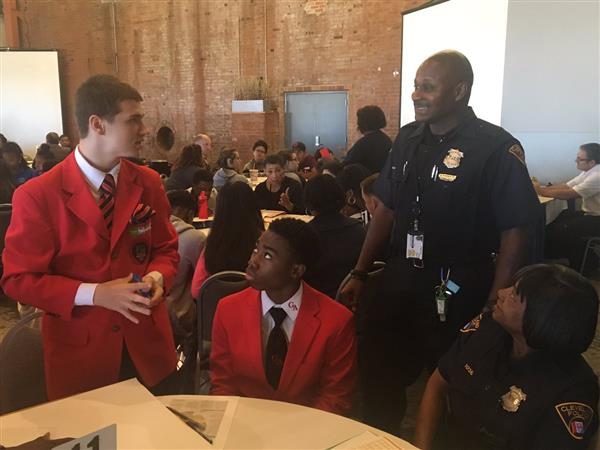 CMSD NEWS BUREAU
10/11/2016
The first Student Advisory Committee meeting of the school year put more than 400 CMSD students face-to-face with police officers to discuss how to break down barriers that persist between the two groups.
Student leaders from nearly every high school in the District filled a conference room at Windows on the River on Friday for the SAC's first quarterly meeting. Sprinkled among the tables were about 30 officers from the Cleveland Division of Police and the CMSD police department who were there to speak with the teens whose schools and neighborhoods they serve.
The discussions centered on the topic of "policing the teen brain," based on a Cleveland Plain Dealer article with the same headline.
The article, which was distributed to students and officers, explains how a teenager's brain development affects how they make decisions and react to certain situations. When police adjust their words and actions in interactions with teens, it leads to fewer arrests, better compliance and improved long-term cooperation, the article says.
Students voiced concerns over problems they see with police in their communities, including racial profiling. And officers offered advice for what students should do if they're ever stopped by police.
CMSD students said the time they spent with the officers was eye-opening on both ends.
"Within our conversation, we felt like we broke the barrier we needed to break between the police and the students," said Trevon Edwards, a senior at the Martin Luther King, Jr. Campus. "That would solve the whole issue if we understand where the police stand and the students stand."
Cleveland police Commander Johnny Johnson, who heads up the department's community policing bureau, sat down with students from the John Marshall School of Engineering.
"They challenged me, and it was awesome," Johnson said. "They asked the hard questions about the things that are happening with police officers in the community today, but to be able to address that question and address them directly, I think goes really far."
Johnson said most of the city police officers who attended the student summit are patrol officers who work in the neighborhoods where students live and attend school.
"There's a good chance these kids are going to see these officers every day patrolling their neighborhoods," Johnson said. "Hopefully the goal is they can say, 'Hey officer, remember me?' and then that officer stops and they talk. It's all about building relationships."
The discussions also diverted to other topics, like bullying and rivalries among neighboring schools. Officers offered solutions to ease tension and deescalate disagreements among their peers.
Officers also got feedback from students about areas in their neighborhoods where they would like to see more police presence.
Jane Addams Business Careers Center senior Camryn Gamble says she and her classmates spoke with officers about their desire for adults to take them seriously.
"We talked about how adults can come to us in certain situations and not just shut us down," Gamble said. "Adults don't know a lot of things going on with our generation, so I'd rather we have a voice and help out."
Giving students a voice in matters usually controlled by adults is the exact purpose of the Student Advisory Committee, which was developed to comply with The Cleveland Plan for educational reform. The delegates convene four times a year -- the next summit is set for February.
CEO Eric Gordon spoke to the students about their role in ensuring safe and respectful learning climates in their schools. He cited data from the latest Ohio school report cards that shows CMSD has the second lowest rate of discipline and suspensions in Ohio.
"You have increasingly told us that schools are getting safer," the CEO said. "But you also told us you don't always feel respected as a citizen and a teenager when you step outside of school," a problem that is not unique to Cleveland.
"The difference in Cleveland is there are young people in a room right here who can change it," Gordon said.