Return to Headlines
College Application Month helps students navigate admissions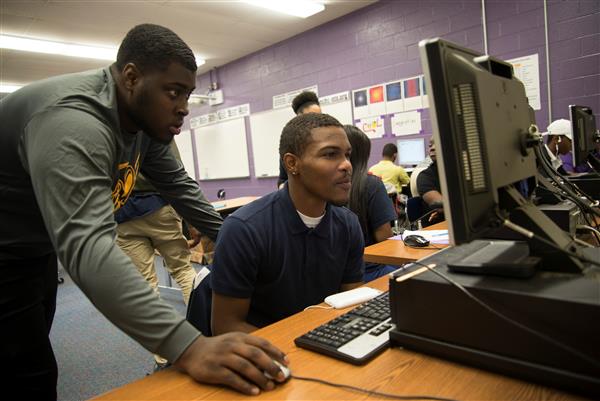 CMSD NEWS BUREAU
11/18/2016
New Tech East students and teachers exchanged high fives and ate cake in their classroom this week. The cause for celebration? Students had just finished a round of college and scholarship applications.
New Tech East is one of 17 CMSD high schools participating in Ohio College Application Month events coordinated by the Higher Education Compact of Greater Cleveland. Students get in-school time to fill out applications for colleges, scholarships and financial aid, with support from community volunteers and college students.
It's just one component of ongoing, community efforts to create a college-going culture in Cleveland schools. This year's campaign began in September with a "Cleveland Goes to College" kickoff that included a college fair, seminars and motivational speakers.
During November, CMSD high schoolers have gotten the chance to navigate the often-confusing journey of college applications with the help of experts and those who have been in their shoes. The Baldwin Wallace University admissions office sent volunteers from their multicultural student recruitment team to help at New Tech East, including one CMSD alumnus.
Jovon Abernathy graduated from John Adams High School in 2015 and now studies engineering and physics at Baldwin Wallace.
"People from the public schools think they can't make it, especially in the inner city," Abernathy said. "But anybody can make it. So to be able to come here and give support and help, it means a lot."
Along with Baldwin Wallace, students from the following colleges are lending a hand: Bowling Green State University, Case Western Reserve University, Cleveland State University, Cuyahoga Community College, Eastern Michigan University, Hiram College, John Carroll University, Oberlin College, Ohio State University, University of Akron, University of Toledo and Ursuline College.
Community organizations are also sending volunteers to assist students, including Cleveland YMCA,
College Now of Greater Cleveland, Esperanza, Greater Cleveland Neighborhood Centers Association, Greater Cleveland Partnership, Lexington Bell Community Center, Scranton Road Ministries and The President's Council Business Chamber.
While College Application Month has only existed since 2014, the Higher Education Compact has been collecting data on CMSD students' college applications since in 2012. The group's statistics show a steady rise in the average number of completed applications, with averages of 4.3 applications per student in 2012, 5.2 applications in 2013, 5.4 applications in 2014 and 6.7 applications in 2015.
The Compact expanded College Application Month events this year due to high demand from schools and guidance counselors. Only 10 schools had an event in 2015, compared with 17 this year.
And each school takes a unique approach to their event. John Marshall, for example, made an entire day of it, with activities including a college fair and a seminar on essay writing. But one thing that remains consistent at all schools is a celebratory and encouraging environment during one of the most daunting tasks for high school seniors.
Baldwin Wallace assistant admissions director Sherri Davis was at New Tech East this week to help with applications and frequently visits CMSD schools for recruitment efforts. She says the event also serves to expose students to colleges and scholarships they may not have known existed. And hearing it from someone who is similar in age seems to help.
"With the college students coming to help, it lets them see other students who are doing what they want to do," Davis said. "If they apply to Baldwin Wallace, great. If not, we're just here to get them somewhere."