Return to Headlines
Freedom Rider talks civil rights activism with students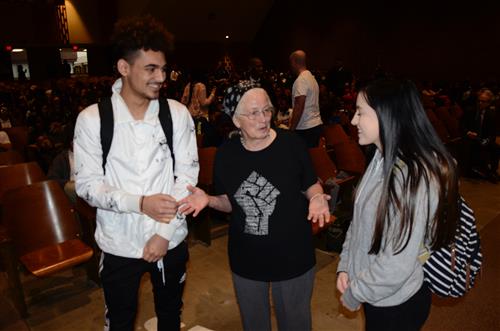 CMSD NEWS BUREAU
1/17/2017
The day after the nation celebrated the life of civil rights leader Martin Luther King Jr., CMSD students had the opportunity to spend time with a legendary activist who helped carry out King's work.
Joan Trumpauer Mulholland, 75, addressed hundreds of 10th- and 11th-graders Tuesday at the East Professional Center. Donning a shirt emblazoned with "Black Lives Matter" and a raised fist emblem, Mulholland discussed her work and gave students advice on fighting racism and injustice in their own communities.
Mulholland gained national recognition as a white Southern woman who defied her segregationist upbringing and participated in more than three dozen sit-ins and demonstrations by the age of 19. She was a Freedom Rider and participated in a historic sit-in at a Woolworth lunch counter in Jackson, Miss.
Mulholland also helped plan and organize the 1963 March on Washington. She received a Freedom Award from the National Civil Rights Museum in 2015.
Tuesday, she joined the students to watch "An Ordinary Hero: The True Story of Joan Trumpauer Mulholland," an award-winning documentary that chronicles her activism. The film told how Mulholland was disowned by her family, attacked, shot at, hunted down by the Ku Klux Klan for execution and put on death row in Mississippi's notorious Parchman Penitentiary with other Freedom Riders. She also crossed paths with some of the biggest names in the movement, including King, Medgar Evers, Fannie Lou Hamer, Diane Nash and John Lewis.
Mulholland told students after the film that while the work was not easy, she was motivated by a vision of an equitable society in the South.
"I could see that my culture was not what it should be, and I wanted to do what I could to be true to what I said I believed -- that we're all humans who should be treated equally," Mulholland said. "I wanted to make my home, the South, the best that it could be for all people."
Students lined up to ask Mulholland questions, including how she found courage in the face of immense danger and backlash.
"You've got to practice what you say you believe in," Mulholland said. "Fear is a waste of time and keeps you from doing what you need to do."
Some asked what they could do to fight racism and injustice in their own lives. She offered these guidelines:
"Get in a group with some friends that agree with you, find some adults who you respect and who respect you, and come up with a plan. You don't have to start real big -- just start where you are, and it will grow."
After the event, Mulholland had a special moment with several women in the audience who were members of the Delta Sigma Theta sorority. Mulholland was the first white woman to join that sorority when she attended Tougaloo College, a school she helped integrate by becoming the first white student. The other women introduced themselves and posed for a photo with Mulholland, flashing the Delta Sigma Theta hand sign.
Dozens of students swarmed Mulholland after the event to ask for hugs and photos. They said the activist's story left them inspired and empowered.
"It was touching to hear a different point of view from the Civil Rights Movement and to see that she got treated poorly just for supporting black people," said Emmanuel Banks, a student at the
John Marshall School of Civic & Business Leadership
. "It made me wake up and realize everyone has to do their part."
Banks' classmate Onyango Pearl said he was honored to meet someone who had known and worked with his idol, Martin Luther King, Jr.
"It makes me want to stand up and be more courageous when I see things happening around me," Pearl said.