Return to Headlines
NASA 'Hidden Figures' day gets students excited about STEM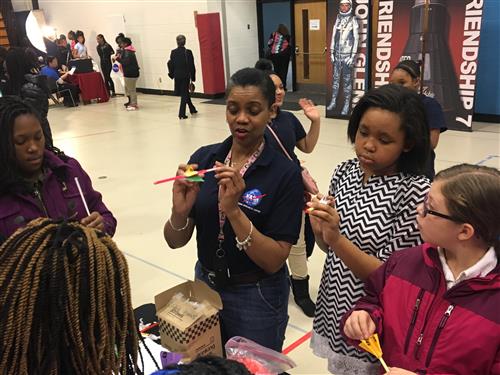 CMSD NEWS BUREAU
1/19/2016
Female empowerment and enthusiasm for STEM were in the air last week when around 350 students took a trip to see the movie "Hidden Figures," listened to an internationally known NASA researcher and participated in fun STEM experiments and activities.
Cleveland's NASA Glenn Research Center and Cuyahoga Community College facilitated a program that targeted mainly female students from 12 CMSD schools. Inspired by "Hidden Figures," which tells the true story of three female African-American mathematicians who provided NASA with important data needed to launch the program's first successful space mission, NASA Glenn saw an opportunity to expose local girls to its positive message.
"We wanted to let students know that there are so many people, including the three women in the movie, that paved the way for them and helped remove barriers in a time where women didn't have equal opportunities in STEM," said Zachary Lucas, a NASA Glenn spokesman who helped organize the event.
"We also want to encourage students to take advantage of STEM (science, technology, engineering and mathematics) and let them know that they, too, can work at NASA or have a career in the STEM field."
After watching the film at Cinemark at Valley View, students took buses to Cuyahoga Community College for lunch and a presentation by a panel of scientists that included Christine Mann Darden. Darden is a retired aerodynamics researcher at NASA, where she worked for 40 years.
Darden was in a pool of "human computers" who wrote complex programs and tediously crunched numbers for engineers. She moved up the ranks to become one of NASA's preeminent experts on supersonic flight and sonic booms.
Darden was featured in the book that inspired the "Hidden Figures" movie and said that as an African-American woman, she experienced some of the same obstacles the subjects of the film faced. Darden remembers noticing that men with math degrees who worked at NASA often progressed to more prestigious engineering positions while women with the similar backgrounds and skills stayed in dead-end computer positions.
"The answer I got was that a lot of women were there looking for husbands, and once they found an engineer as a husband, they would quit their jobs and went home to raise families," Darden said. "I said, 'Not all women are that way. Many women continue to work.' "
Darden encouraged the girls in the audience to embrace math and to speak up in their school and community. She also had advice for students whose dream careers aren't directly related to STEM.
"Our world seems to be coming more attuned to STEM in every field, so even if you want to be a lawyer or a psychologist, having a STEM background will give you twice as many opportunities," Darden said.
After listening to Darden, students had a little bit of NASA-style fun. They rotated among nine stations to participate in activities by NASA engineers. Each activity was related to a concept that was referred to in "Hidden Figures," including a parachute drop and a math-equation competition.
Wade Park student Shanea Pollard said seeing the movie and learning how to make a rocket out of a bottle and rubbing alcohol sparked her interest in science.
"After today, I want to be a scientist, because of all of the cool stuff you can find out by doing science and the things that you can achieve," she said.
Lovina Vernet Vinson, 10th-grader at the Lincoln-West School of Science and Health, said she was inspired by the movie's positive portrayal of black women.
"I love how they show that black women are able to do many things that men can do," Vinson said. "Women can create things and do the impossible."