Return to Headlines
Hip-hop music is learning tool at MC²STEM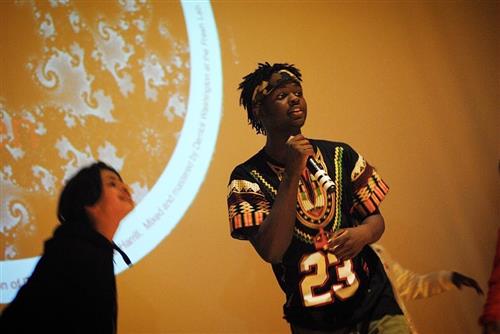 CMSD NEWS BUREAU
4/4/2017
Combining hip-hop music with academics to get through to high school students could seem cliché, but the way it's done at MC²STEM High School -- where students write and produce rap songs about problems in their communities while learning about STEM concepts -- is anything but.
Through a growing partnership with Refresh Collective, a local organization that uses "hip-hop-in-action programs" to educate and motivate youth, students at the STEM (science, technology, engineering and math) high school are learning the ins and outs of digital music production.
One product of this collaboration was on display last week at Cleveland State University, where ninth-graders performed songs off an album they produced titled "Change the World: One Song at a Time" in front of all of MC²STEM. The event felt more like a rap concert than a capstone presentation, with student performers dancing onstage as their classmates and teachers cheered them on and sang along. And according to Refesh Collective founder Dee Jay Doc Harrill, that's the whole point.


For the past six years, Harrill has spent one quarter collaborating with MC²STEM teachers to help the students explore the process of producing an album. The project draws on subject matter from five different areas of the curriculum, including engineering concepts to build a sound booth and English and language arts lessons to guide the lyric writing. The students also design cover art, create a mock financial plan and learn about electricity and sound waves.
"We use project-based learning and tie all the classes together into a unified project that is meant to engage students on another level and give them more reason to want to learn on their own," Harrill said.
Freshman Jalen Scott said he and his classmates used computer science concepts to help record and mix the music, which he found challenging but fun. The biggest challenge, he said, was overcoming stage fright.
"I had to get over a lot of fears," he said. "I was scared that I would get onstage and forget the lyrics, but it ended up being fun."
The lyrics to each of the 27 songs on the album are deeply personal. Take this verse from a song called "Loss": "Got a call from my family, my brother was shot and killed. / Couldn't believe they took him over a drug deal. / He lived a rough life and all I could think was, 'God, why?' / They took him from his only son, now all we do is cry."
Other songs addressed topics like poverty, drug addiction, hunger, racism and gang violence. The only requirement Harrill gave students for their lyrics was that they had to be about something the students want to change in their community. Sometimes, the writing brought up painful memories, Harrill said.
"But when they finish their song, you see them light up because they created a message from their pain that they can use to motivate someone," he said. "To see them perform with energy and passion and to inspire the world with something that they could barely talk about at first -- to me, that's life-changing."
MC²STEM Principal Feowyn Mackinnon said the project has also become a rite of passage for freshmen and helps create unity among ninth-grade students, who come from PreK-8 schools all across the city to the the high school. MC²STEM is part of the District's portfolio of school options -- a main component of the The Cleveland Plan for transforming the city's public schools.
A special moment at this year's show came during a song about kidnapping written by a group that included a deaf student. The student performed all the lyrics in sign language and taught the rest of her group how to sign the refrain. Before the performance, the group showed the audience how to sign that verse, and the whole auditorium joined in.
"It helps create a feeling of support among the ninth-graders because they're working toward a common goal and they feel like they can relate to each other," Mackinnon said.
The students' connection to Refresh Collective doesn't end after ninth-grade. Mackinnon and Harrill have also developed a project for 10th-graders to research a community organization and create a public service announcement, and one for 11th-graders to write songs in Mandarin.
Refresh Collective is one of the school's most integral partners, the principal said. Harrill and his team not only help make learning fun, but they also help students develop social awareness and provide mentoring. The partnership resulted in job opportunities for two students who met Harrill through MC²STEM and later became part of the collective's traveling performance group.
Refresh Collective has also served in-school residencies at Cleveland High School for Digital Arts and Mary McLeod Bethune School, where artists helped students produce albums. The unique approach of using hip-hop music as a window to learning seems to be working.
"They're not just using rap to make content fun for the kids," Mackinnon said. "They make a true connection to the content areas instead of just saying, 'Let's rap about a subject.'"