Return to Headlines
Children's author to visit 8 schools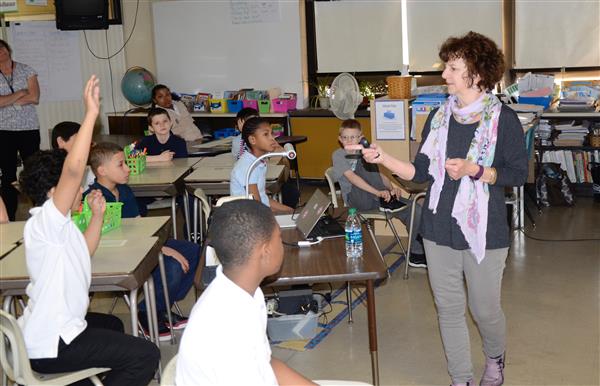 CMSD NEWS BUREAU
4/18/2017
A children's author is stopping at eight District schools this week to read to students and give them an inside look at the world of writing and publishing books.
Deborah Hopkinson is the author of nearly 50 books for young readers, including picture books, fiction and nonfiction. She will visit preschool, kindergarten and first-graders at Sunbeam and Miles Schools on Wednesday and Campus International (preschool through fourth grade), Robinson G. Jones (preschool through fourth-grade) and H. Barbara Booker (preschool through first grade) schools on Thursday. She will also appear at Hannah Gibbons School's family literacy night Wednesday at 4:30 p.m.
Hopkinson kicked off her CMSD visits Tuesday at Denison School and Newton D. Baker School of the Arts.
"I always love talking to children, and they had great questions and were really engaged," Hopkinson said after her Denison visit. "I write about history, and I really like it when kids are open to reading about history."
Hopkinson met with a fourth-grade class at that school to read excerpts from some of her works, including "Sweet Clara and the Freedom Quilt," a historical fiction based in the pre-Civil War South about a young slave girl who stitches a quilt with a map pattern that guides her to freedom in the North. Hopkinson talked to the students about the Underground Railroad and about how illustrator James Ransome brought her words to life with his drawings in the book.
Each student who attends Hopkinson's presentations will receive a signed copy of Hopkinson's book "Apples to Oregon," which tells the story of pioneer father who transports his beloved fruit trees and his family to Oregon in the mid-19th Century -- based loosely on the life of Henderson Lewelling. The books were donated by the Cleveland Schools Book Fund, an organization operated through the Cleveland State University Center for Excellence and Innovation in Education that supports literacy in CMSD schools with books and programming.
In addition, each classroom will receive a signed book and study guide for "Follow the Moon Home," a story about the powerful difference young people can make in the world, told through the tale of a young girl who brings her community together to save the sea turtles of the South Carolina coast.
All in all, the book fund expects to give away up to 600 of Hopkinson's books.
Sharon Brown, director of the Center for Excellence and Innovation in Education at CSU, said the author visits help children delve deeper into their favorite books and authors. She works with the Cleveland Schools Book Fund, which organized Hopkinson's trip and previous author visits.
"Even if a child already loves a book, when they suddenly have the person who wrote it standing in front of them, it's an exciting experience," Brown said.
She referred to a moment at Denison when the author told students her book ideas are often rejected by multiple publishers before she gets a "yes," and that even after that, it takes hard work and perseverance to get through the editing process.
"They hear the lessons that their teachers teach them every day in a different way," Brown said. "It's a reinforcement of the messages we want children to hear," Brown said.