Return to Headlines
SuccessTech graduates last class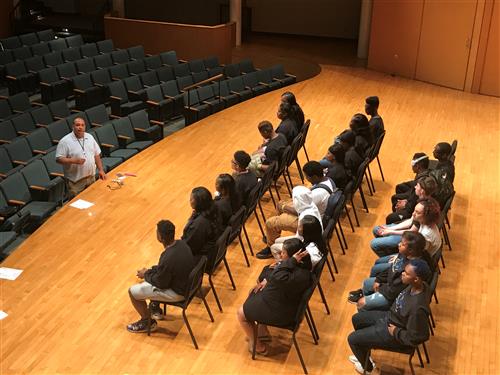 SuccessTech's last seniors rehearse for graduation
CMSD NEWS BUREAU
5/24/2017
When SuccessTech Academy's 25 seniors crossed the stage and picked up diplomas last week at Cleveland State University's Waetjen Auditorium, they might have felt more than the occasion's usual share of mixed emotions.
The seniors looked to the path ahead with excitement but were saddened knowing that their downtown high school will now close, leaving them without a place to visit favorite teachers and relive fond memories.
"It's going to feel weird," Johnetta Hood said a few days before the ceremony. "Nobody is going to follow us."
The District started phasing out SuccessTech four years ago, after the Class of 2017, then numbering 66, entered.
The closing is in keeping with The Cleveland Plan's promise to replace obsolete models with programs that better prepare students for the modern workforce. SuccessTech, which shared the Lakeside Building first with District administrative offices and more recently the Cleveland High School for Digital Arts, will turn over its portion to Davis Aviation and Maritime High School.
SuccessTech's story reads like a plot line from popular fiction: a hopeful start, followed by struggle with tragedy and a bittersweet ending.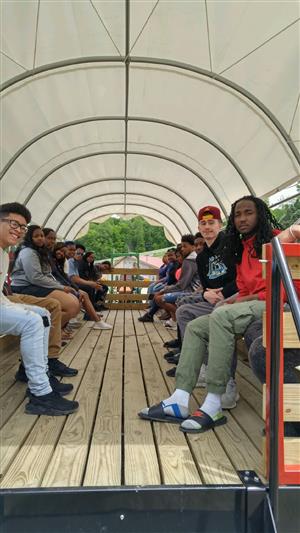 The school opened in 2002 with a financial assist from Microsoft founder Bill Gates and emphasized technology and project-based learning, elements that are actually found in some of CMSD's newer small schools. SuccessTech provided valuable lessons to build on, but the District is now taking models to another level, said Christine Fowler-Mack, chief portfolio officer. The Portfolio Office launches and supports new schools.
SuccessTech will be forever tied to a renowned social and emotional learning program that was adopted districtwide after a student with a gun wounded two classmates and two teachers and killed himself in October 2007. The Aspen Institute's National Commission on Social, Emotional and Academic Development
is using CMSD's Humanware program as a model
as it develops recommendations for schools on helping students deal with anger, stress, fear, anxiety and isolation
Members of SuccessTech's last senior class were only 7 or 8 years old at the time of the shootings but heard peers from other schools repeatedly mention the tragedy. They say that is not what defined their school.
Johnetta, David Vance, Rayven Collins and Zaria Morrison reflected on their time at SuccessTech while on break from a graduation rehearsal.
Johnetta wants to study and write music. Vance will join Cleveland Public Power as an apprentice lineman. Rayven plans to study business and someday operate a daycare center or restaurant. Zaria is headed for a career in physical therapy.
Wherever they go, they will remember a high school where students came together like family and teachers kept them on track.
"All of them would go out of their way to get something for you," David said of his teachers. "Financially, physically, mentally, if you needed something, they were there."
Principal Phillip Schwenk said having such a small group allowed him and SuccessTech's eight teachers to operate in ways that would not be practical if the enrollment were large. For example, after completing studies on site, the seniors would regularly travel to workplaces around Cleveland for research, in effect making the city their classroom.
Schwenk, who was at SuccessTech for two years, said he was struck by the students' "willingness to co-exist" with their classmates and build strong relationships. He said the kids come from diverse backgrounds but developed a "natural space" and a deep understanding of each other's personalities.
The seniors often sought feedback and advice from the adults at the school and, as the school year drew to a close, they visibly lingered around him and the teachers, as if to hold on as long as possible. Schwenk said he will miss the kids but feels an almost parental pride as they head into the future.
"Part of my family is going away," Schwenk said. "But I am proud of them and where they are going."