Return to Headlines
Global Studies students exhibit mastery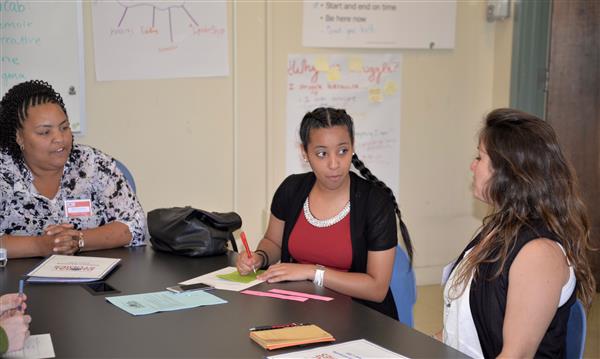 Student Samantha Canales receives feedback from community partners and teachers.
By the time one Lincoln-West School of Global Studies student finished a recent presentation, the student, whose first language is Spanish, had spoken more English in a 10-minute span than his teachers had heard him speak all year.
Personal victories like this are the essence of the school's educational philosophy: competency-based learning. This unusual and personalized approach allows each Global Studies student to advance based on ability to master a skill or subject at his or her own pace.
Last week, the school's inaugural ninth-grade class showcased their personal learning journeys in front of their teachers, peers and community partners at an Exhibitions of Learning event. Students chose a project or concept in any subject from the second half of the school year and delved into what they learned, and more important, how they learned it.
Unlike a traditional presentation, the EOLs focus less on the finished product than what students learned along the way.
Student Samantha Canales chose to showcase her short story about a couple who struggled with heroin addiction. Talking to her small group in one of Lincoln-West's third-floor classrooms, Samantha explained the steps she went through to generate the storyline, create the characters, organize the plot and revise her story.
"I used tools like a plot diagram and character analysis," she explained to her group. "I used the diagram to break the story down into little pieces, and that helped guide me through the process. I also made a rough draft and another paper where I wrote down things I wanted to add or take out."
She also discussed the inspiration for the plot -- her deceased father's struggle with heroin addiction -- and how the writing project helped her sort through some of her feelings and grief.
This wasn't the first EOL for Samantha and her classmates. Students participated in similar presentations after the first half of the school year. This time around, Samantha said she was much more comfortable and receptive to feedback.
"It makes you realize that it's OK if not everything is positive," she said. "I have to work on a lot of things, like speaking more slowly, but getting feedback is nice because you actually get told what you need to work on. It's like a practice run for when you have to stand up at graduation or something and give a speech."
During the discussion and feedback portion of the EOLs, the group members have the opportunity to ask questions that encourage students to think more deeply about how they learn and what they can improve upon: What was the most challenging part of this? How does that apply to real life? Who did you turn to when you needed help?
Lastly, the student leaves the room while the group discusses strengths and weaknesses. The student then comes back in to receive the feedback.
The EOLs can also be an eye-opening experience for the community partners as they learn more about individual students and the school itself.
Rashawn Brown works in Cuyahoga Community College's TRIO program, which helps low-income and first generation youths and adults to enroll in and complete a postsecondary program. He said he was intrigued by how the mastery-based approach accommodates students' diverse needs.
Brown helped evaluate the Spanish speaker who is still learning English, yet made his entire presentation in English. Brown said he was amazed by the experience and the amount of progress the student appeared to have made.
"It really speaks to the student's confidence and the fact that, even though he's trying to learn English, he can still complete this project alongside his other classmates and do it well," Brown said.
More than 25 partners came from local businesses, colleges, nonprofits and other organizations to be part of the EOLs, including representatives from the NASA Glenn Research Center, Cleveland Council on World Affairs, John Carroll University and Esperanza.
Global Studies Principal Irene Javier said the decision to bring in partners was a no-brainer.
"The community will always be part of what we're doing here," she said. "When we designed the school, we knew that we would make it a priority to stay connected to the community, and that's what we're doing."
Students prepared for their EOLs during a class called advisory, but the mastery-based method is deployed in every course from algebra to journalism to tap dancing, Javier said. Teachers use personalized learning strategies that combine classroom and online learning, small group instruction and community-based projects to help each student reach his or her potential.
As the school expands to include 10th grade next year, and 11th and 12th in the two years after that, the faculty will develop more advanced EOLs that students will be required to present twice a year.
CMSD opened the Lincoln-West School of Global Studies and the Lincoln-West School of Science and Health last year with financial support from the Carnegie Corporation of New York. It's part of the District's strategy, under The Cleveland Plan, to provide more school options so students can find the ones that fit their individual needs and interests. The Lincoln-West schools operate all year, alternating10 weeks of classes with three-week breaks.