Return to Headlines
Puerto Rican family finds hope for sick daughter in Cleveland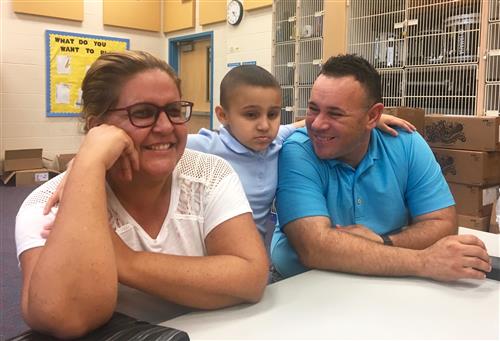 A CMSD family from Puerto Rico found hope at the Cleveland Clinic for 9-year-old cancer patient Alanys Z. Martínez Mercado. (Her parents, Inermis S. Mercado Monroig on the left and Héctor A. Martínez Navedo on the right)
CMSD NEWS BUREAU
9/1/2017
Alanys Martínez Mercado, 9, skipped around the music room at Thomas Jefferson International Newcomers Academy, swinging her arms around and chasing after her older brother. Watching her, it was hard to believe that just months ago, Alanys couldn't walk or eat by herself.
Alanys is recovering from medulloblastoma, a brain tumor. Her family moved to Cleveland from Isabela, Puerto Rico in August to seek medical care for Alanys at the Cleveland Clinic.
"We heard about the Cleveland Clinic and that it's such a good place, and God guided us here," said Héctor A. Martínez Navedo, Alanys's father, through an interpreter during an interview at the school while his daughter was being enrolled.
The family is one of hundreds of CMSD families who have come from the U.S. territory of Puerto Rico and dozens of other countries in recent years. Many are refugees fleeing war or persecution; some are immigrants dreaming of a better life. Others, like Alanys's family, have their own unique challenges and see Cleveland as a beacon of hope.
The District has an entire department dedicated to the education and cultural acclimation of its international population, which surged this year to nearly 5,000, according to Department of Multilingual Multicultural Education Director José González. The office uses the number of English language learners (ELLs) to estimate the number of international students. The current rate is more than double what it was 10 years ago, González said.
CMSD students hail from 32 countries and speak 45 languages. For those who arrive from abroad, their education journey often begins at Thomas Jefferson International Newcomers Academy and Multicultural Welcome Center.
How families get there depends on their circumstances. Many are brought or referred by refugee organizations that sponsored their migration. Others hear about the welcome center through word of mouth. Some are brought in by family.
That was the case for Alanys's family, who went to enroll their two children accompanied by Martínez Navedo's niece, a CMSD graduate whose father moved the family to Cleveland from Puerto Rico 15 years ago.
A majority of CMSD's ELL students are from Puerto Rico, González said, and Spanish is the first language of about 2,900 of the District's ELLs.
A decade-long recession in Puerto Rico has led natives to leave the island for the United States at a historic rate. The government debt crisis was also a factor in Alanys's family's decision to leave.
Martínez Navedo said the political and economic state of Puerto Rico is difficult and frustrating. Beyond that, the family saw the effects of the recession in the quality of Alanys's medical care.
"Her treatment in the hospital was good, but it was still suffering," he said.
"It's gotten to a point that the government has so little money that they're not able to supply people with medically necessary medications for chemotherapy or other sorts of medical necessities," he said. "People die as a result."
Martínez Navedo described meeting children who were being treated in the same hospital as his daughter. Some of those children died because the hospital didn't have the resources to save them.
Newcomers become students
Regardless of how families end up at Thomas Jefferson, what happens next is the same across the board. To keep up with the growing number of international families, González's office has streamlined a once-prolonged process into a two-hours-or-less operation handled by three specialists.
The process looks something like this: A specialist helps the family complete a home-language survey and gathers the student's academic history (if they have one). She also surveys the family to determine what needs they have in terms of food, furniture, clothing and other necessities so she can connect them with community resources. Next, the children take a four-part English language test to determine what level of language services their school will need to provide.
Then, the specialist meets with the parents to discuss the test results and inform them of the various school options. Because CMSD is a choice district, families have the option to send their child to any school in the District, if space is available and, in a few cases, they meet admissions criteria. But the multilingual multicultural office usually recommends that the student attend one of the District's 16 multilingual schools -- schools that offer comprehensive ELL services.
There are six multilingual high schools and seven multilingual PreK-8 schools, two of which are Spanish dual-language schools, meaning half of the classes are taught in English and half in Spanish.
Then there's Thomas Jefferson, a PreK-12 founded in 2010 to support immigrant and refugee students. Teachers there have the unique task of not only teaching students a new language and other content areas but also helping them assimilate to a new culture and way of life.
Many Thomas Jefferson students know little to no English and have had no formal schooling before their arrival, González said.
"We may have a 13-year-old who has only been to first grade or a high school-aged student that stopped going to school in fifth grade," González said. "We had a sixth-grade student who never held a pencil in their hand because that's just the nature of where they come from."
The makeup of the Thomas Jefferson population is constantly growing and changing. In 2011, there were just 251 students. Last year, it reached 850 students -- 569 of whom were refugees. Most come from areas of conflict across the world, including Africa, Southeast Asia and the Middle East.
To meet the very specific needs of Thomas Jefferson students, every teacher is required to be certified in Teaching English to Students of Other Languages (TESOL) or other similar educational endorsements. Teachers receive professional development on cultural awareness and additional training from local refugee agencies.
"It's important that the teachers specifically know how our refugee students learn," González said.
Once Thomas Jefferson students get a grasp on English, they often transfer to another District school. Many have gone on to achieve academic excellence and are pursuing college degrees.
Finding hope in recovery
Alanys's family has been in Cleveland for only a month, and Martínez Navedo joked that he already misses the tropical island and beautiful beaches of Puerto Rico.
The family is searching for permanent housing, but for now, the four of them are sharing one room in Martínez Navedo's brother's house. Though it's not comfortable, he said, it's only temporary.
The most important thing, he said, is that Alanys is getting the care she needs at the Cleveland Clinic. Alanys finished chemotherapy in May at a hospital in San Juan, Puerto Rico.
The Cleveland Clinic cancer specialist, who she saw in late August, is going to help her with physical therapy, hearing issues and treatment for her immune system, which is severely compromised.
"It was exactly what we were looking for," Martínez Navedo said.
Alanys and her 12-year-old brother are overjoyed to be attending school at Joseph M. Gallagher. Alanys had to miss a year and eight months when she was in the hospital, which was so hard for her that her parents bought her a backpack and school supplies to cheer her up.
While the transition has been relatively smooth, it hasn't been perfect. In her first week at school, Alanys fell down the stairs and lost one of her hearing aids.
Alanys's personality has changed a lot since her diagnosis, said her mother, Inermis S. Mercado Monroig. She used to love to do ballet and dancing at her family's church. She could even do the splits. She lost all of those abilities when the cancer came.
But now that she is in recovery, she's showing signs of improvement. Hair that she lost during chemotherapy is growing back, and she is slowly gaining back her balance, hearing and motor skills.
Her parents are feeling optimistic.
"We want our daughter to be a normal little girl - that's our goal," Martínez Navedo said. "We're not looking to achieve any sort of extraordinary result -- just that she be a normal child."
Alanys, however, has a different goal. She just wants to dance again.