Return to Headlines
Students connect with 'Hidden Figures' author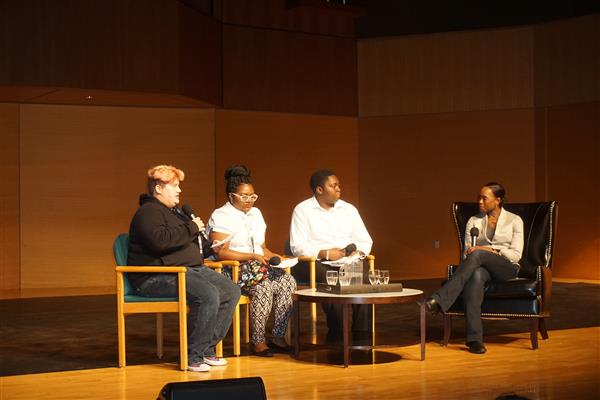 Three CMSD high school students had the chance to participate in a panel discussion with the author of the award-winning book, "Hidden Figures," (From left to right, students Natalie Parsons, Kymari Williams and Darell Cannon with author Margot Lee Shetterly)
CMSD NEWS BUREAU
9/8/2017
"You're not better than anyone, and nobody's better than you."
That's the advice that Margot Lee Shetterly, the author of the book "Hidden Figures," gave to three CMSD students who sat on a panel with her to talk history, writing, race, gender and more. More than 700 District high school students filled the Waetjen Auditorium at Cleveland State University on Friday to hear from Shetterly, whose book many of them have been reading in school.
"Hidden Figures" uncovered the true story of three African-American women and NASA mathematicians whose calculations allowed the U.S. to send astronaut John Glenn on his historic space flight in 1962.
Shetterly's book, which inspired a hit movie, won the 2017 Anisfield-Wolf Award for nonfiction, which she accepted Thursday night.
The awards program, administered by the Cleveland Foundation, supplied copies of "Hidden Figures" to students at CMSD's Whitney M. Young Leadership Academy, New Tech East, Cleveland School of Science and Medicine, Campus International, Facing History New Tech, MC²STEM, Glenville and the John Marshall Campus. Pamela Donaldson, from the Cleveland office of Facing History and Ourselves, helped to recruit the schools and prepared curriculum guides.
The advice that Shetterly told the student panelists was passed on to Shetterly from Katherine Johnson, one of the mathematicians featured in her book, during interviews, Shetterly said. And Johnson said her own father often repeated the phrase to Johnson while she was growing up.
The three student panelists were Whitney M. Young Leadership Academy senior Darell Cannon, Facing History New Tech High School senior Natalie Parsons and Bard High School Early College Cleveland West Campus's Kymari Williams. All three presented the author with thoughtful questions about her writing process, the characters and guidance for teenagers in the inner city.
Sitting onstage under bright lights, Natalie told Shetterly about the impact that "Hidden Figures" had on her.
"This book really inspired me," she said. "I enjoyed it when we read it in class, and it encouraged me to look up scientists that have been forgotten in our past."
Natalie went on to ask Shetterly why she chose to write about Johnson, Dorothy Vaughan, Mary Jackson and the other women featured in "Hidden Figures." Shetterly explained that she grew up around some of the women mathematicians because her father worked at the NASA Langley Research Center in Hampton, Va.
"I consider myself a real product of the pioneering work that those women did," Shetterly said.
When it was her turn, Kymari took a personal approach, asking Shetterly why she felt it was important to provide black girls and women with alternative, positive images of themselves.
"What I really wanted for these women, who had these incredible lives, who were full people, who had these interesting personal lives and very dynamic professional lives and lives that intersected with a lot of these great moments of history -- what I really wanted was to give them a star turn," Shetterly said.
After time for the panel ran out, the event closed out with a special presentation from a CMSD alumna. Zephaniah Galloway, who graduated from Cleveland Early College High School this past year and is a freshman at Howard University, read an essay that helped her win a $40,000 college scholarship from the Maltz Museum of Jewish Heritage.
Kymari was all smiles after the panel. As a fan of "Hidden Figures" who admits she cried after she watched the film adaptation, Kymari was thrilled and a bit starstruck.
"I want to meet her again," she said. "I have so many more questions I wish I could ask her."
She was also in awe of Zephaniah, whose essay about growing up feeling conflicted over what it means to be an African-American girl amidst a barrage of stereotypes, racism and expectations was relatable to Kymari.
"That really hit me, because I've dealt with some of those same feelings," she said.
In preparation for the event, Pamela Donaldson, from the Cleveland office of Facing History and Ourselves, helped to recruit the schools and prepared curriculum guides. She said the conversation between the student panelists and Shetterly was moving, but also seemed to help students in the audience see history through a new lens.
"I feel that the students really understand the importance of recognizing people who tend to be unsung in our history," Donaldson said. "I just loved Margot, her presence on the stage and the way she connected with the students on the stage, the audience and our city."