Return to Headlines
Facing History transforming culture at John Marshall IT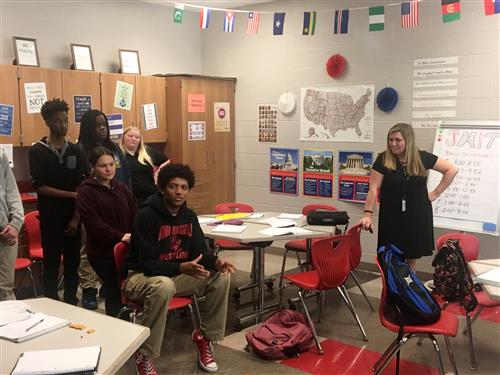 Students at the John Marshall School of Information Technology participate in a Facing History activity during history class with teacher Kristen Miller.
CMSD NEWS BUREAU
9/20/2017
In a history class at the John Marshall School of Information Technology, 10th-grader Jaja Cottingham stood alone under a sign that read "disagree." It indicated that his beliefs were at odds with a phrase projected on the screen at the front of the room: "People are born with unalienable, natural rights."
Per the teacher's instructions, each student had chosen to stand in one of four corners marked agree, strongly agree, disagree or strongly disagree. Jaja was by himself, but he held his own and gave an impassioned explanation of his stance.
"It's true that some people are born with rights, but not everyone is born with rights," Jaja told the class. "There are people in third-world countries that are under dictatorships, and they don't have rights. We'd like to believe that we all do, but we don't."
This type of classroom activity might seem unusual to introduce a lesson on something as straightforward as The Declaration of Independence, but at JMIT, which has adopted the Facing History and Ourselves model in humanities classes since the school's inception, it's par for the course.
Facing History is an approach to education that uses history and the study of human behavior to help students become engaged, informed and responsible citizens. Studies have shown that Facing History is a leader in social and emotional learning, which is the process of acquiring the knowledge and skills to understand and manage emotions, achieve positive goals, feel and show empathy, maintain healthy relationships and make responsible decisions.
JMIT hosted a first-ever "Facing Fridays" event last week to showcase to donors, prospective donors and Facing History board members what Facing History looks like in classrooms. JMIT adopted the instructional practice last year in every subject area and provided professional development for teachers to implement it.
This year, the focus is on helping students explore their identities. Elements of this exploration were visible throughout the hallways of the second floor of the John Marshall Campus, which houses JMIT. Teachers in every subject area were instructed to infuse the topic into their lessons, while ensuring their practices aligned with Common Core standards, JMIT Principal Chelsey Cook said.
In a biology lesson about chemical elements, students made drawings of atoms with the different parts (nucleus, protons, electrons and neutrons) representing aspects of their personal lives (self, family, friends, culture, etc.).
Cook said it was important that teachers understood why things like personal identity are an important part of student learning.
"The things that our students are coming into school with -- from our girls who wear hijabs to our students who are learning English -- are why we're pushing this idea that JMIT is family and you can feel safe being yourself here."
Students, teachers on board
At JMIT, many students have embraced Facing History. Cook said this is due, in part, to making sure students have a voice in their education.
In an English classroom on the "Facing Fridays" tour, students began the period doing a silent "gallery walk," where they walked around to different stations, calm music playing in the background, and wrote responses to pieces of writing taped to the wall.
The topic of those writings was suicide -- something that students had suggested to their teacher as an issue that was relevant to teens.
Sophomore Mary Kilani said the environment in the school is supportive, equitable and safe. Because of this, JMIT students hold themselves, and each other, to a high standard.
"Our students are expected to not target each other because we need everyone to feel safe," she said. "We expect more of ourselves, and everyone should."
Another student, senior Hajar Rouiha, said the emphasis on respect and empathy makes classroom discussions more productive.
"When we have journal discussions in English class, everyone says their opinions," she said. "You might expect people to argue, but in here, we're calm and try to see other's perspectives."
Since joining the NEO Facing History Network and implementing Facing History across all classes last year, JMIT has seen significant improvements in school culture.
The results of surveys that asked students how well their social and emotional learning needs were being met rose 10 percent, Cook said. She has also noticed fewer fights among her students.

"You can't separate that growth from Facing History," she said.
Students are also starting to see themselves as pieces of a larger community and world, as evidenced by the growing Facing History student leadership club.
Hajar, the president of the club, has led students in a number of educational and fundraising projects. Last year, they raised money to send a girl in Afghanistan to school. Most recently, the club collected donations for victims of Hurricane Harvey in Houston. Up next is a project to help homeless people in Cleveland stay warm and survive in the coming winter.
Teachers, too, are buying in, with help from Kristen Miller, who teaches the history class mentioned previously and also serves as the Facing History liaison for JMIT. She helps teachers align their lessons with Facing History concepts.
"My biggest win with the teachers has been seeing them prioritize the idea that kids don't care what you know until they know that you care," Miller said. "Bringing the idea of seeing each other as individuals to our IT family has been really powerful."
Part of a bigger picture
JMIT is part of a 12-school partnership, known as the Northeast Ohio (NEO) Schools Network, that aims to transform school culture and climate through curriculum development and networking among Greater Cleveland schools that are using Facing History.
The other schools are Citizens Leadership Academy, Fuchs Mizrachi School, Hawken Middle School, Laurel School, Magnificat High School, Joseph and Florence Mandel Jewish Day School, St. Martin de Porres High School, Urban Community School and CMSD's Facing History New Tech High School, Martin Luther King Jr. Campus and New Tech West High School.
Administrators and teachers meet three times during the year to share best practices. Student leadership groups and yearly network events give students the opportunity to be part of the diverse collaborative.
"There is no other network anywhere in Northeast Ohio where I get to work with the headmistress of Laurel School and collaborate with administrators at Jewish day schools, Catholic schools, charter schools and the other CMSD schools," Cook said.
Each school has a liaison who, like Miller, helps teachers implement Facing History objectives in their classrooms and communicates with other liaisons in the network.
Facing History serves a larger purpose at JMIT, which is believed to be the first high school in Ohio to focus on computer science. The school has formed connections with top technology companies and higher education institutions in the region to prepare students for careers.
"We are building the next IT workforce," Cook said.
Facing History is a key part of making that work as the first-ever senior class prepares to graduate next spring.
"Our students know how to speak with people, relate and connect," Cook said. "They're also prepared to be data scientists and software developers."