Return to Headlines
AP access expanding with NMSI College Readiness Program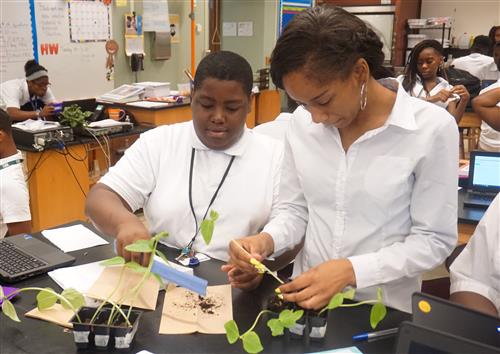 AP Biology students at Cleveland Early College High School measure bean plants that they grew as part of a lab experiment.
CMSD NEWS BUREAU
10/10/2017
Advanced Placement courses have a lot to offer high school students -- free college credit, a stronger transcript to show college admissions officers and exposure to college-level material, to name just a few.
It's the last reason that motivated 11th-grader Jason Roberts of Cleveland Early College High School to sign up for AP Biology this year. Jason is one of hundreds of CMSD students who now have access to AP courses, thanks in part to the College Readiness Program provided through the National Math and Science Initiative.
"I wanted to take a more difficult course to get ready for college-level work, so that when I get to college, the adjustment will be easier," Jason said.
AP classes are college-level courses created by the College Board and offered in high school. Students have the option of taking a standardized test at the end of the course and can earn three college credits by scoring a 3, 4 or 5 on a 5-point scale.
Opportunities for CMSD high school students to enroll in AP courses are expanding rapidly. Now, many District AP teachers are getting top-notch training from through the NMSI program. The program is funded by the U.S. Department of Education's Investing in Innovation grant and aims to close the opportunity gap that exists because minority students and those living in poverty are less likely than their wealthier, white peers to take an AP class.
The three-year College Readiness Program uses a combination of student, teacher and school supports designed to dramatically increase the number of students taking and earning qualifying scores on AP math, science and English exams. It has a proven track record of improving results for traditionally underserved students.
This year, the program is in place at eight District high schools.
Mary Ellen Carras, CMSD's AP coordinator, has been at the helm of expanding AP access through the NMSI program and other strategies.
"The culture is changing around AP as CMSD teachers and administrators start to believe that we can do this as a large, urban district," Carras said. "With the NMSI program, teachers are starting to see more passing scores, which helps them believe in themselves as teachers. And the same goes for the students."
The offerings have expanded dramatically since last year. There are now 17 different subjects offered at 19 CMSD high schools. Many schools offer multiple AP subjects, including Ginn Academy, JFK PACT and Lincoln-West School of Global Studies. Since last year, the District has added 25 new courses and 26 more AP teachers.
CMSD administered 604 AP exams in 2013. That number more than doubled to 1,288 in 2017.
Carras said the District's sets high standards, sometimes even higher than the College Board.
For example, while the College Board does not require teachers to have any special qualifications to teach AP classes, CMSD mandates that teachers get proper training. Additionally, the District requires AP students to take the exam even though the College Board makes it optional.
With the NMSI program in place and the District working to get more students in AP classes, test scores are beginning to reflect improvement.
Passing scores have tripled since 2013, when only 45 students passed an AP exam. And last year, CMSD students earned $40,000 of free public college credit for passing AP exams, which translates to about $200,000 in private college savings.
Though a total shift in culture will take more time, the numbers for the four schools that had NMSI support last year -- Cleveland Early College High School, James F. Rhodes High School, Cleveland School of Architecture and Design and John Marshall School of Information Technology -- showed promising results.
The number of math, science and English AP exams taken by students at those schools increased from 193 to 363 - an 88 percent jump. The number of students who earned a qualifying score of 3 or above on their AP exam quadrupled.
NMSI also tracks gains for African-American students, who are historically underrepresented in their exposure to AP. Across the four NMSI partner schools, there was a 400 percent increase in qualifying scores for African-American students. Cleveland Early College High School saw especially impressive growth, as the number of exams taken by African-American students increased from 37 in 2016 to 103 in 2017.
Teachers who have received NMSI College Readiness support said the tools and resources have been game-changers for their classrooms. AP teachers at the NMSI schools attend several training sessions, including a summer institute that the John Marshall Campus hosted this summer, to learn AP-specific teaching strategies. They also gain insight on the AP exam and learn how to prepare students for the test.
Kristina Bernosky teaches AP Biology at Early College and is in her second year of doing so with NMSI support. Asked what material she learned from NMSI trainers was put to use in her classroom, she said, "Pretty much everything."
"They take you through a lot of the labs and lessons that the students have to do in AP that weren't part of regular biology class," she said. "It's a whole new approach to learning and teaching the material, and it's invaluable."
With the grant money, Bernosky has also been able to purchase classroom supplies that are necessary for an AP Biology course.
The first lab experiment her class conducted involved growing and measuring bean plants to learn about artificial selection and become familiar with writing lab reports. The project required some small materials like dirt and seeds, but also larger ones like a plant grow stand with a grow light -- something that Bernosky didn't have last year but was able to buy with some of the grant money.
In the past year, the Early College science department also ordered glassware, microscopes and kits with materials that students need to perform laboratory experiments -- the kinds of things that Bernosky said kept the school from even offering the course before the grant.
The day the deliveries arrived "was like Christmas morning," she said.
Bernosky also praised the Saturday study sessions that are part of the College Readiness Program. Students enrolled in AP courses have three opportunities during each semester to receive different and more focused perspectives from top AP experts from across the country.
"It's good for them because they get to be with students from other schools, so they can see how other students are doing and interact with a different person about the material," Bernosky said.
Bernosky, a first-year AP Biology teacher, saw the 53 students taking her course earn 11 passing scores. For all Early College students, qualifying scores on math, science and English AP exams increased from 1 in 2016 to 26 in 2017.
The College Readiness Program is beginning to reach more students across the District, with four more schools -- Max S. Hayes High School, Whitney M. Young Leadership Academy, Garrett Morgan High School and Cleveland School of Science and Medicine -- receiving support this year.
Crystal Ward is the NMSI College Readiness program manager who works with CMSD schools. NMSI believes that having a student sit in the course, reading college-level material and going through the rigor and time management is valuable preparation in itself, she said. One CMSD teacher told her about an AP Calculus student who didn't qualify for the AP exam but went on to test out of Calculus I in college.
"We're trying to change the mindset that AP is just for gifted and talented students," she said. "We believe that with the right support for teachers and students, all students can benefit from AP and become more prepared for college."
Research has found proof that there are advantages for students who take AP courses beyond saving money on college. One study found that students who took one or more AP tests and courses had higher college GPAs and were more likely to graduate from college in four years or fewer.
While the increased test scores and wider access is promising, Carras said the District isn't even close to done growing its AP program.
"We're going to keep expanding the access and encouraging our teachers and our students to challenge themselves," she said. "There's more work to do."