Return to Headlines
Students in need receive Special Teams Packages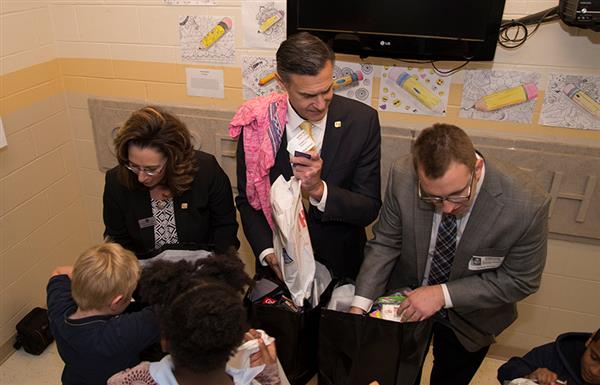 CMSD NEWS BUREAU
10/24/2017
Students were all smiles on Tuesday at two CMSD schools as they received much-needed clothes and school supplies.
Representatives from Fifth Third Bank and the Community West Foundation made Special Teams Package deliveries to students at Clara E. Westropp School and James A. Garfield School. The Special Teams Package program, launched last year by CMSD, Cleveland Browns Foundation and Shoes and Clothes for Kids, provides uniforms and supplies to students in need.
At James A. Garfield School on West 140th Street, Dean of Engagement Sharone Thomas welcomed news of a $7,500 grant from Fifth Third Bank. The recipient, Shoes and Clothes for Kids, will use the money to provide Special Teams Packages for at least 75 students.
Each package contains three full school uniforms, one casual outfit, one pack of socks, one pack of underwear, a Payless gift card and school supplies.
The assistance can be put to immediate use, said Thomas, who serves as a school liaison to parents and the community.
"We have children who don't have backpacks, who don't have proper uniforms," she said. "We already have people who are asking us for Thanksgiving help and Christmas help. There's definitely a need."
Fifth Third Bank has a longstanding relationship with Shoes and Clothes for Kids and more recently has sent staff to Garfield for an annual Junior Achievement Blitz Day. The bank was impressed with data showing the positive effect the Browns' donations had on District students' attendance last year.
"We really like this opportunity," said Regional Communications Manager Laura Passerallo, a Shoes and Clothes for Kids board member. "Our priorities are improving lives and building stronger communities."
The Community West Foundation gave Clara E. Westropp on Puritas Avenue a $10,000 grant for packages in a neighborhood where many families struggle with poverty and homelessness.
Peter Schindler, senior program officer for the foundation, said those are two issues Community West is taking on through the Special Teams Packages and other initiatives.
"Basic needs, and particularly the needs of children, are very important to us," Schindler said. "We need to give kids a chance."
The foundation also works closely with Laura's Home, a women's shelter located near Clara A. Westropp that is part of the City Mission. The shelter also is a place that more than 60 Clara E. Westropp students call home, according to Principal Krystle George. In all, about 12 percent of the students in the school are homeless.
George said she expects the new clothes and supplies in the Special Teams Packages will have a major impact on students' confidence and academic performance. She could see their moods lift as they dug through their bags. One student told her about his new Superman shirt "at least 16 times."
"We have a lot of scholars who are struggling with uniforms," George said. "When they have nice, clean uniforms, they not only feel good about themselves and want to succeed, but it also takes away all those worries about being teased."
It's also expected to impact students' attendance. Data from last year showed that the nearly 1,000 students who received Special Teams Packages missed fewer school days, on average, than they missed before they received the packages.
The Cleveland Browns Foundation has, for a second consecutive year, given Shoes and Clothes for Kids $100,000 to help CMSD students with uniforms and supplies.
Terry Uhl, executive director for Shoes and Clothes for Kids said the grants from the Community West Foundation and Fifth Third Bank demonstrate that the other organizations are getting involved and that momentum is beginning to grow in the community.
"We're committed to making sure this dedication to helping kids continues," Uhl said. "We're on the right track, but there's so much more to do."