Return to Headlines
CMSD, city shine during national conference
CMSD NEWS BUREAU
10/27/2017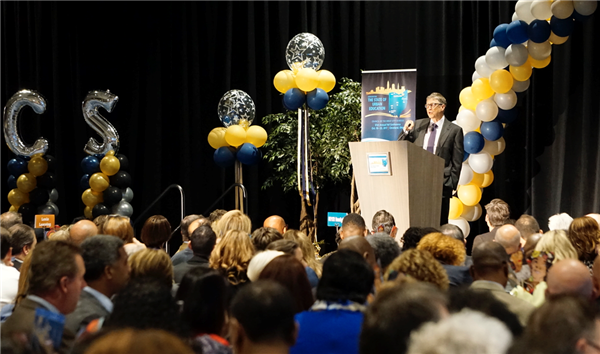 A national urban education conference put CMSD and the city in the spotlight last week -- and both shone brightly.
With CMSD serving as their host, more than 1,100 urban superintendents, school board members and other leaders came for the Council of the Great City Schools' annual fall conference.
The turnout was the second largest in the council's 61-year history. The council represents 70 of the nation's largest urban school systems.
Visitors gathered from Oct. 18-22 at the downtown Hilton and Huntington Convention Center. They also spent time at the Cleveland History Center, East 4th Street and the Rock and Roll Hall of Fame and Museum.
"Cleveland was a splendid host to educators from all over the nation," said Michael Casserly, the council's executive director.
"The school district showed off the city to best effect, attendees loved what they saw, and many vowed to return'" he said. "Many of our conferees had never been to Cleveland before, but loved the people, the hospitality, the architecture, and the many diverse things to do. A first-rate experience in a first-class city."
Headline speakers included Microsoft co-founder and philanthropist Bill Gates, who outlined plans for investing $1.7 billion in K-12 education, actress and activist Rosario Dawson and CNN contributor Van Jones. Ideastream live streamed Gates' and Jones' appearances.
District students caught attention with dance and instrumental performances and artwork used as table centerpieces. Some also took part in panel presentations.
CMSD participated in 18 of 75 small-group presentations, discussing initiatives in areas such as developing leaders, curbing chronic absenteeism, giving students a voice in their education and recruiting and retaining quality teachers.
On the first day of the conference, Chief Executive Officer Eric Gordon told District leaders that the turnout was high because of the city's location in America's heartland and the critical issues facing urban education.
But he said the visitors also wanted to get a glimpse of reform work going on under The Cleveland Plan.
"People want to know what we're doing," he said. "This is a big moment for us."
It was an impressive audience. Gordon calls the council the nation's "single most important professional development organization for urban educators" and says the conference is the educators' most significant growth opportunity.
To read and watch CMSD News Bureau coverage of the conference, go here.