Return to Headlines
HBCU college fair shows Cleveland students possibilities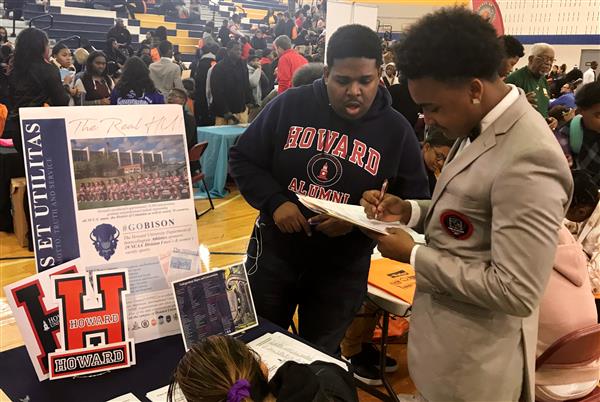 A recruiter from Howard University helps a Ginn Academy student fill out an application at the HBCU College Fair.
CMSD NEWS BUREAU
11/17/2017
Ginn Academy senior Tre'Ron Fullerton arrived at the Historically Black Colleges and Universities Fair ready to learn more about his postsecondary options.
Little did he know he would leave with two letters of acceptance, one from Bethune-Cookman University and another from Lincoln University.
Tre'Ron was among about 1,500 CMSD students who attended the event Friday at the District's East Professional Center. The Cleveland Council of Black Colleges Alumni Association organized the fair.
Recruiters from more than 25 HBCUs and organizations like City Year and Army ROTC met with the juniors and seniors to market their schools and programs. Anthony Brown, president of the council and director of student resources at the Cleveland School of the Arts, gave a presentation to introduce students to the benefits of attending an HBCU. The assembly was meant to emulate freshmen orientation at an HBCU, with a deejay playing popular music and CMSD high school cheerleading squads performing a routine.
Many students came with a stack of transcripts in hand. Some schools, like the ones that offered admission to Tre'Ron, had applications, scholarship forms and acceptance letters ready to go.
"I thought I was going to come here to just make connections," Tre'Ron said. "This is a great experience."
Friday was the kickoff of a two-day fair, which will continue Saturday at Warrensville Heights High School. The council has held an HBCU fair in the Cleveland area every year for 15 years, and it's grown annually since it began in the basement of Antioch Baptist Church, Brown said. This was the first year the council set aside one day just for CMSD students.
"We want to make sure Cleveland students understand their options and opportunities," Brown said.
This sentiment was echoed by Anthony Battaglia, CMSD's director of career and college readiness. Battaglia could be seen running to and from the copy machine throughout the day to make extra transcript copies for students eager to apply to more colleges.
"A lot of our students are interested in HBCUs, but we only have two in the state of Ohio," Battaglia said. "This is a way to expose them to different schools that aren't in their back yard."
The fair also aligns with efforts of the District and partners to help more high school graduates enroll in college. Data from the Higher Education Compact of Greater Cleveland shows that while CMSD students are graduating in larger numbers, are more prepared for college and are remaining there longer, postsecondary enrollment is lagging.
To encourage more students to apply, the council received funding from McDonald's that covered the Common Black College Application fee for every student who registered for the fair. That application allows students to apply at any number of 53 HBCUs at the same time.
The fair is just the first point of contact for the council, which will also host an event in February to help students who have been accepted to an HBCU make plans for tuition payment and other next steps, Brown said. The council will bring the students together again in the summer for a cookout to celebrate those who are headed to HBCUs in the fall.
Brown hopes the fair inspired students who don't think their academic records make them college material.
"It's those students who sometimes don't have the motivation or drive but still want to go to college" he said. "We're showing them schools that mostly have small classroom environments, one-on-one experiences with teachers and that nurturing environment to support you in your evolution. We want to give those students some hope."
Have a story idea for the CMSD News Bureau? Email it to newstips@clevelandmetroschools.org.