Return to Headlines
Four board members take oath for new terms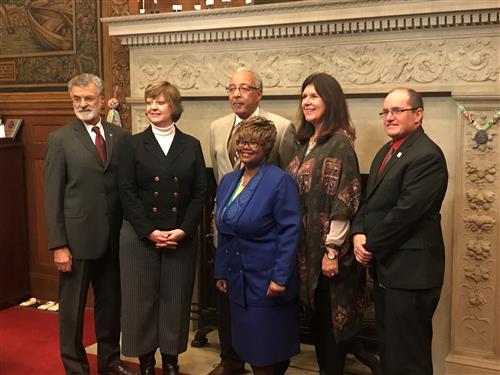 Mayor Frank G. Jackson and District Chief Executive Officer Eric Gordon pose for photographs with board members, from left, Anne E. Bingham, Robert M. Heard Sr., Willetta Milam and Lisa Thomas.
CMSD NEWS BUREAU
12/19/2017
Mayor Frank G. Jackson administered the oath of office to four Board of Education members on Monday, but the makeup of the board remained unchanged.
Jackson reappointed Chair Anne E. Bingham, Vice Chair Robert M. Heard Sr., Willetta A. Milam and Lisa Thomas to terms that will expire on June 30, 2021. Under state law, Cleveland's mayor oversees the District and appoints board members after applications are submitted and a nominating committee makes recommendations. Board members serve without pay.
The mayor appoints the District's chief executive officer in consultation with the board. CEO Eric Gordon, who has no input in the selection of board members, said he was pleased with the reappointments and an opportunity to continue the harmony that reigns in the District.
"We are not behaving like board and administrations in other school districts," he said during the ceremony at City Hall. "We are talking about teaching and learning for children."
Thomas, who has served six years on the board, said the duties are challenging.
"We are running a major corporation," she said. "It takes a lot of trust, among each other, among Eric and his staff and mostly with the citizens and parents of Cleveland."
The other members of board are Louise P. Dempsey, Jasmine Fryer, Denise W. Link, Shaletha Mitchell and Justin L. Monday. Their terms will expire on June 30, 2019.