Return to Headlines
Educators study on students' day off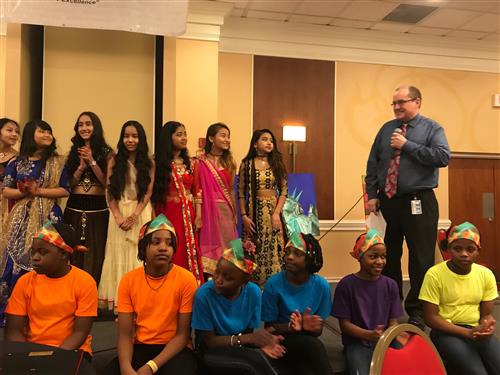 Some of CMSD's international students took time on their day off to perform at a District conference on multilingual multicultural education.
CMSD NEWS BUREAU
2/16/2018
CMSD's PreK-3 Early Learning Conference has become a hot draw – with a capacity crowd of 535 District educators turning out on Friday.
"It was like a Justin Bieber concert," Nicole Vitale, director of early childhood education told an audience of educators working in preschool through third grade. "It filled up in a day. I had principals texting and calling, asking me to get you in."
The fourth annual conference, held at the Doubletree hotel in Beachwood, was among District professional development sessions staged while students enjoyed a day off. Other sessions covered subjects like multilingual multicultural instruction and special education.
The Early Learning Conference focused on literacy and how to weave it into other core subjects. More than two dozen presenters led workshops on how to make their instruction more fun, engaging and effective while helping students meet higher state standards.
CEO Eric Gordon opened the conference, applauding teachers for helping an expanding roll of CMSD preschools achieve the top state score for quality and raising the District's K-3 literacy score from an F to a C. Growth in literacy exceeded rates in 88 other Ohio districts.
"You are moving your kids faster than a lot of your peers," he said.
More than 400 teachers, instructional assistants and paraprofessionals gathered at the Airport Marriott for the District's second annual Multilingual Multicultural Education Conference.
The theme for the day was "From the many, we are one." The Multilingual Multicultural Office serves CMSD's growing population of international students, which surged last year to nearly 5,000 children who represent 32 countries and speak 45 languages.
The beginning of the day looked less like a conference and more like a festival as four groups of CMSD students -- on their day off from school -- performed dances from their respective cultures.
The show featured Joseph M. Gallagher School students performing a fusion of Nepali and Indian dances, International Newcomers Academy students who hail from five African nations and Puerto Rico and John Marshall Campus students showcasing dances from a variety of cultures and countries.
After the students wowed the crowd with a vibrant mosaic of culture and the dancers began filing off the stage, Gordon stepped up to deliver his keynote speech. But the first thing he did was call the students back up to join him.
"I wanted to invite our scholars back in because they represent something very unique and important to us as a District," Gordon said.
He encouraged the educators, all of whom work at one of several CMSD schools that have targeted programs for English Language Learner students, to think about the phrase "multilingual and multicultural."
"Not only do we welcome children from many cultures, but we try to do two things simultaneously," he said. "First, we introduce the English language and American customs. Second, we protect the home language and home customs of our scholars."
Gordon's remarks set the tone for the rest of the day's events, which included workshops and discussions on such topics as culturally responsive teaching, college and career preparation and strategies to reduce dropout rates.
At Corporate College East in Warrensville Heights, the Conference on Inclusive Learner-Centered Instructional Practices was also at capacity. The crowd of 365 included educators from both the District and charter schools it partners with in the Cleveland Education Compact.
The conference concentrated on ways to better integrate students who have disabilities with their peers.
Nearly 22 percent of CMSD students are designated as receiving special education. Research shows the vast majority of them can achieve the same standards as their peers, and they would benefit from inclusion, said Jessica Baldwin, the District's executive director of special education.
The keynote speaker, Houston consultant Frances Stetson, sprinkled humor along the way as she helped the audience think about ways to achieve the conference's goal. That included urging them to reflect on their attitudes, anxieties and biases.
"Is there something in me that stands between me and what's right for a child?" she said. "Am I part of the solution?"
Have a story idea for the CMSD News Bureau? Email it to newstips@clevelandmetroschools.org