Return to Headlines
True2U event sends 8th-graders off to high school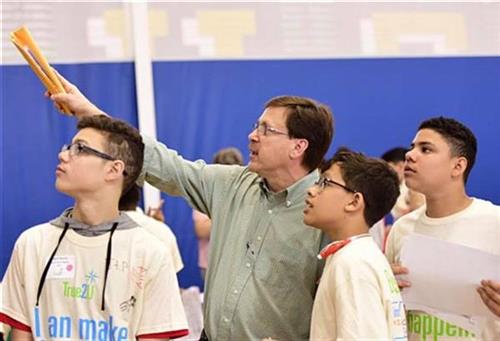 The True2U culminating event included workshops, a motivational speaker and a summer opportunity fair.
CMSD NEWS BUREAU
5/11/2018
CMSD's eighth-graders are just a few weeks away from being able to call themselves freshmen, and thanks to the True2U mentoring program, they're ready to take on the challenges of high school.
The True2U celebration this week at East Professional Center was the final event to mark a year's worth of mentorship, preparations and self-discovery. Over the course of three days, each school's eighth-graders had the opportunity to finalize their high school plans and explore opportunities for the summer.
True2U connects adults in Cleveland's business and civic organizations with a group of 10 to 12 eighth-graders to help the students envision their future and work on skills needed to make that future a reality. Emphasis is placed on career and college readiness. True2U is a partnership between CMSD, the Cleveland Foundation, MyCom, the Greater Cleveland Partnership, the Neighborhood Leadership Institute and Northeast Ohio Faith-Based Collaborative Inc.
Watch this video to learn more about True2U
The culminating event was facilitated by True2U employees, mentors and partners. Mentor Eric Hills was there with his 10 mentees from Kenneth W. Clement Boys' Leadership Academy.
Hills said that serving as a True2U mentor has been one of the most rewarding experiences of his life, especially because he is a CMSD high school graduate who went on to college and a successful career working for Cuyahoga County.
"Cleveland public schools are dear to me, so when I saw the opportunity to get involved, I jumped on it and recruited my friends," he said.
Hills said one of the highlights was seeing his students discover how they could turn their interests and passions into a career pathway using True2U career assessments and discussions.
"A lot of kids assume that they're going to get their life plans together, but having this time to actually work on it and discover the options makes a big difference," Hills said.
One of Hills' mentees, Juan, said the time with his mentor was well spent. He came out of the experience knowing that his decision to attend the Cleveland School of Science and Medicine was the right one.
"He helped us find out who we really are and our strengths and weaknesses," Juan said. "He helped us get closer to ourselves."
Through the True2U sessions, Juan discovered that he is a logical person, which helped him decide that he should attend a school that specializes in science and math. But the most important takeaway for Juan was learning to be true to himself.
"You can't figure out who you are on your own," Juan said. "You need other people to talk to."
The 2017-18 school year was the first year that True2U reached every CMSD school. It's also the first year that nearly 80 percent of eighth-graders submitted their high school choice before the March 9 early deadline. That number is usually below 50 percent, according to True2U program manager Audrey Davis.
Davis said the increase in students choosing their high schools is likely related to the expansion of True2U and the focus on helping students pick a school that meets their unique interests and needs. She added that the quality and dedication of the roughly 450 mentors was impressive.
"Seeing that many people in our community step up to wrap their arms around our CMSD students, and do so in a way that is caring and committed, was truly amazing," Davis said.
The event also had resources for those students who didn't make their decision yet and those who wanted more information about their chosen school. The CMSD Office of School Choice and Enrollment set up a table where enrollment specialists were on hand to answer questions.
Students also spent time at the summer opportunity fair in the gym, where representatives from organizations including the Boys & Girls Clubs of Cleveland, the Greater Cleveland YMCA and MyCom provided information about summer jobs and activities.
The highlight for some students was the keynote speaker, rapper and social activist Dee-1. The New Orleans native shared his story of finding his purpose by going to college, becoming a high school math teacher and then discovering that his true calling was making music and inspiring young people. It was Dee-1's second time visiting CMSD, following his appearance at the high school choice fair in the fall.
True2U is seeking mentors for next year's eighth-graders. Anyone who is interested in joining the program can apply here.
Have a story idea for the CMSD News Bureau? Email it to newstips@clevelandmetroschools.org.