Return to Headlines
US Ed Official David Johns visits CMSD's Facing History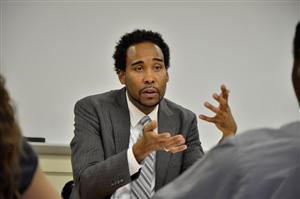 CMSD students and staff at Facing History New Tech on Friday afternoon held an informal and free-ranging discussion with, David J. Johns,
Executive Director of the White House Initiative on Educational Excellence for African Americans
and one of President Obama's top education officials.
Facing History New Tech is the first high school of its kind in the nation and one of CMSD's Innovation Schools. The school on Montclair Avenue not only focuses on project-based learning, but amplifies that idea by having students work on those projects collaboratively. The combined study project is then presented to an audience of peers and staff and the students' grades are then based on a combination of content, oral and written communication, teamwork, reflection and work ethic.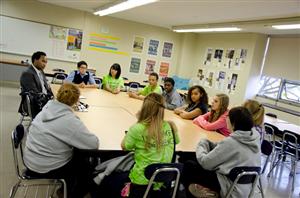 Johns, who was appointed to the post in March, said he came to the school to see how the model is functioning and told Principal Marc Engoglia that he would like to come back to observe classroom activities.
On Friday, he chatted with about 10 students, hitting topics serious topics such as military service and educational opportunities and the No Child Left Behind Act. He also shared a few laughs with the students, who wanted to know whether he was close enough to the president or First Lady to text with them.
"No, no I don't text them," said Johns, laughing. "But I have walked the dog, does that make us 'BFFs?'"
He also left them with one takeaway thought: "Do something you love," he said. "If you heard nothing else today, remember that – do something you love."
Johns' position calls for him to "work to identify evidence-based best practices to improve African American student achievement—from cradle to career," according to the U.S. Department of Education announcement of his appointment.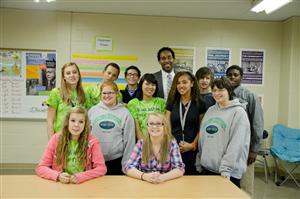 A one-time elementary school teacher, he had previously been a senior education policy advisor to the Senate Committee on Health, Education, Labor and Pensions (HELP) under Sen. Tom Harkin, D-Iowa and for the late Sen. Ted Kennedy, D-Mass. Johns also was a Congressional Black Caucus Foundation Fellow in the office of Congressman Charles Rangel, D-N.Y.
Johns obtained a master's degree in sociology and education policy at Teachers College, Columbia University, where he graduated summa cum laude while simultaneously teaching elementary school in New York City. He graduated with honors from Columbia University in 2004 with a triple major in English, creative writing and African American studies.