Return to Headlines
Three new K-8 schools welcome students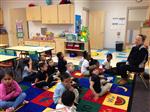 Students at three K-8 schools returned from an extended Thanksgiving break Tuesday and entered completely different worlds.
New buildings -- nearly $50 million worth of construction in all -- awaited students at Almira, Miles and Orchard schools. The state paid for more than two-thirds of the cost; the rest came from a $335 million bond issue that Cleveland voters approved in 2001.
The new schools, part of a comprehensive construction program, replaced obsolete buildings that dated as far back as 1916. The new structures offer modern amenities like wireless Internet, mounted projectors in classrooms, energy-efficient lighting and air-conditioning but also more routine features that staff and students had gone without.
For example, the new Miles, located at East 119th Street and Miles Avenue, comes with rubberized-surface playgrounds, including fenced areas outside doors to kindergarten classrooms. Neither the former Cranwood School -- the students' temporary home for four years -- nor the previous Miles had a real playground.
Students filing into the new Miles' corridors for the first time Tuesday gaped as they passed the huge, brightly lighted gymnasium. Cranwood's dingy gym doubled as a cafeteria, and, thus, was unavailable during three lunch periods. The cramped space had no room for sidelines, so the boys basketball team played only away games.
Eighth-grader Tyler Martin was excited to see the new building but disappointed that she will spend only half a school year there before graduating.

"The school is more advanced," she said. "It's got a science lab and a gym. We'll get more opportunities."

Grandmother Pamela Ballard, a first-day visitor, stood alone in the gym and marveled at her surroundings. She said the new school reminded her of a college campus.

"This is beautiful," said Ballard, a second-shift traffic controller for the city of Cleveland who volunteers at Miles. "It brings tears to your eyes."

Ballard's daughter, Antonice Ghani, escorted her son, Angelo, to his kindergarten classroom. She said her son was proud to be among the school's first students and was eager to get there on opening day.

"He kept waking me up. 'Is it time yet? Is it time yet?' " she said.

Kelly Walden, who teaches science and math in the upper grades at Miles, was happy to get a laboratory but also welcomed the decision to reserve the second floor for middle-school-age students. She said she hoped that having a space of their own would create a middle-school feel for the students and better prepare them for high school.

Miles kindergarten teacher Kathy Brennan thinks a modern school could boost children's enthusiasm. She has encouraged them to take care with the new facility and "treat it like a castle."


At the new Almira, 3375 W. 99
th
St., Principal Laverne Hooks was swept up in a whirlwind of exuberance, excitement and "Oh my!" from students, parents, staff and visitors.
"Let's go my babies, second-graders line up here!" Hooks shouted over the din over students of all grade levels walking out of the cafeteria, where workers were already disinfecting the tables and prepping for lunch. "Let's go see your new rooms!"
The new Almira cafeteria features a full stage area, complete with sound equipment. The stage backs up to the gymnasium, which can be seen through a window.
"I love it, I think they did a wonderful job," said LaTrice Glenn, a grandmother who attended Cleveland schools and now has three grandchildren at Almira. "I am truly pumped and excited."
Teacher Paula Cleary walked her kindergarten students into her new first-floor classroom and showed off the bright carpeting, computers, audio equipment and storage areas for coats, lunchboxes and other materials.
"OK, everybody, here's our new room, what do you think?" she asked before launching the class of 14 students into their morning routine, the same one she had used only a week earlier on their last day of classes at the temporary Almira home on Worthington Avenue. The children rushed into the classroom with glee.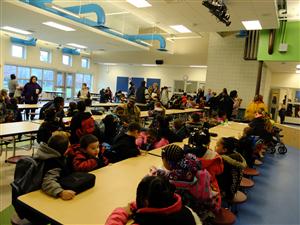 At Orchard, located on the West Side at 4200 Bailey Ave., Principal Mary Ann Knapp walked around in the morning, watching classes using electronic versions of blackboards. Third-graders went on a scavenger hunt to find classrooms.
Throughout the day, students stopped her to says thanks for the new school. All she could say was, "We did this for you because you are so important."
Since the building program was launched, the District has built 34 schools and renovated seven. More than 40 others, averaging about 80 years old, remain untouched.
The District is gathering comments on future building needs. The public can attend a series of public forums that wrap up over the next two weeks, or complete online surveys. For information on the meetings or to take a survey, go to
http://bit.ly/1b9P6zw