Return to Headlines
Community agencies to help low-performing schools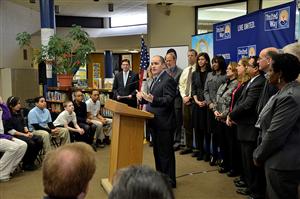 Thursday, December 5, 2013
Community agencies will line up services to help CMSD students in 17 low-performing schools achieve success but first will determine which services best fit each of the schools.
Included are 13 investment schools targeted for immediate and dramatic improvement under The Cleveland Plan, a unique state-approved blueprint for reform. The remaining buildings were previously designated as wraparound schools, but the change was in name only.
Voters were promised reform before passing a four-year, 15-mill property tax last year. The District requires collaboration from the community if it is to deliver, Chief Executive Officer Eric Gordon said Thursday.
"We cannot do this work alone," he said during a news conference at H. Barbara Booker, a K-8 school on West 67th Street. The school was one of the four that were previously given the wraparound designation.
CMSD and the United Way each committed $500,000 to the initiative's first-year cost of $1.7 million. The Jewish Federation of Cleveland, the Cleveland Browns, Park Ohio Products Inc. and others will contribute the rest.
The "lead agencies" with work with the schools to pick a full-time site coordinator for each and recruit other service providers. The services for individual schools will be
determined in community meetings
that will begin Wednesday at Collinwood High School.
Gordon insisted that the wraparound schools provide tutoring for students who have fallen off track, mentoring, particularly for middle and high school students, and programs that extend to before and after school and during vacations.
H. Barbara Booker has 410 students, and Principal Katrina Hicks estimates that three-fourths of them need tutoring. Hicks said the students, who often start school behind and exhibit widely varying levels of ability, would benefit from consistent, focused one-on-one remediation.
"We don't have a whole lot of students who are proficient or above," she said. "Teachers are struggling to prepare lessons for five or six different groups of kids."
Hicks said that in addition to tutoring, her wish list includes primary-care health clinic like the one that MetroHealth Medical Center doctors and nurses
launched last month
at another wraparound site, the Mound STEM K-8 school in the Slavic Village neighborhood. The clinic provides care for four hours, one day a week, filling a void for parents who have trouble making physicians appointments because they work, lack transportation or have no one to watch other children.
The
West Side Community House
is the lead agency for H. Barbara Booker. Executive Director Dawn Kolograf said she expects the public to also express interest in activities for children but said that will require finding transportation for them on weekends and during school breaks.
Franklin D. Roosevelt K-8 School in the Glenville neighborhood got a head start with its lead agency, the Boys and Girls Club of Cleveland. FDR
became a fully functioning Boys and Girls Club
this school year, with a director, assistant director and six staff who provide free education and recreation programming from 2:30 to 6:30 p.m. Monday through Friday.
The club keeps students engaged and active while giving parents a secure place to leave their children after school. The programs include tutoring, homework help, guest speakers, field trips , athletics and arts activities. Music lessons are beginning with school instruments refurbished by the Educator's Music store in Lakewood.
The Cleveland Foodbank provides a daily full dinner for the students, who also receive weekly instruction in nutrition.
As many as 100 FDR students participate each day. Principal William Hayes said the number of older students appeared to jump just before Thanksgiving, when two pool tables, an air-hockey game and table-tennis equipment arrived.
The Boys and Girls Club of Cleveland runs programs in eight CMSD and charter schools, but FDR is the only full-service location. President Ron Soeder said the club, which also operates five freestanding locations, is seeking other school sites.
"That's part of our growth strategy," he said. "We would like to be in an as many schools as our funding would provide."
---
The schools and their lead agency partners are:
Alfred A. Benesch

Boys & Girls Clubs of Cleveland

Anton Grdina

Burton, Bell, Carr Development, Inc.

Case

Rainey Institute

Collinwood High School

OhioGuidestone

East Tech High School

Friendly Inn Settlement Corporation

Franklin D. Roosevelt

Boys & Girls Clubs of Cleveland

H. Barbara Booker

West Side Community House

Harvey Rice

The Centers for Families and Children

John Adams High School

College Now Greater Cleveland

Kenneth Clement Boys'

Leadership Academy

Case Western Reserve University

Lincoln West High School

Esperanza, Inc.

Luis Munoz Marin

Esperanza, Inc.

Marion Sterling

No lead agency named. Wraparound services supported through School Improvement Grant dollars.

Mound

University Settlement

Robert Jamison

Cleveland Play House

Robinson G. Jones

Bellaire-Puritas Development Corporation

Walton

Esperanza, Inc.
For more information about the wraparound schools, lead agencies, and the site coordinator position visit
www.LiveUnitedForKids.org
.