Return to Headlines
Glenville, Coach Ginn on the brink of Ohio high school football history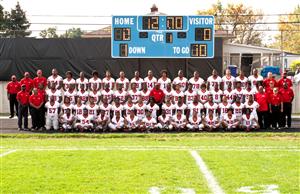 The Glenville High Tarblooders and Coach Ted Ginn Sr. have put CMSD and the city of Cleveland at the brink of football history – again.
No Cleveland high school – make that no urban Ohio public high school – has won a state football championship since the inception of a statewide playoff system, but Glenville can stake a claim to history if the team can win its 14th game in a row Friday night at Canton's Fawcett Stadium.
In 2009, Glenville became the first Cleveland public high school team to play in a state championship game, losing a 16-15 heartbreaker to Hilliard Davidson on a two-point conversion late in the game.
Standing in the Tarblooders' way this time is undefeated Loveland High, a team making its first trip to a state title game. The Tigers boast a strong defense, allowing about 14 points a game, though they surrendered plenty in a 38-35 semifinal win over Zanesville last week.

(Admission for the State Championship game is $10 per person at the gate or $8 in advance. Tickets are on sale through noon Friday at Glenville High School. Additional ticket information can be obtained by calling the Glenville Athletic Office at 216-268-6000 or the CMSD Interscholastic Athletics Office at 216-574-8670.)

Glenville has roared into the title game, outscoring its four playoff opponents by an average score of 35-8. The Tarblooders defeated Medina Highland, 41-13, last week in in the Division II state football semifinal. Glenville and Highland were tied 13-13 at the half, but the Tarblooders racked up 28 unanswered second-half points.
http://highschoolsports.cleveland.com/game/score/1867199/

So on the eve of history, is Coach Ginn worried? Obsessed with the never-ending gridiron detail and strategy? Focused on what could be described as his legacy game – coming back to coach this season after surviving cancer last year?
Hardly.
In fact, Ginn doesn't talk much about the disappointment of the 2009 championship game. He doesn't talk about X's and O's or strategies or matchups or speed vs. power. He doesn't even seem worried about the weather forecast: Temperatures are expected to be near or below freezing after a few days in the 50s.
"Nah, it's too late for any of that," he said. "You just need to continue to do what you've been doing and be fundamentally sound. You need to respect the team you're playing and get them to respect you. It's about heart at this point, not strategy.'

So instead of worrying, Ginn sits comfortably in the cafeteria at the East 162nd Street academy that bears his name, munching a piece of cake and drinking a Dixie cup of fruit punch. He jovially teases a few of the young men in black pants, black shirts and red ties who are cleaning up the room after an academic awards ceremony Thursday morning.

He is dressed for success – burgundy suit, yellow tie, pressed white shirt with monogrammed cuffs and large colorful cuff links. He is also completely unstressed – for a man who said he was near death a year earlier and for a coach on the cusp of making history.

"No, I'm not worried, but I'm determined, we all are," he said. "If we win as a team, then the whole city, the school district, the neighborhood of Glenville – they all win. These kids understand that.

"I could not care less if I win Friday night, but they want to win it for me, and for that reason I want them to win it for me."


But District Athletic Director Leonard Jackson -- who hired Ginn in 2000 and shares his faith in the program and the overarching need to build young men more than just athletes -- is a little worried about the game.

"They have to execute – they can't have all the penalties in a game like this like they did against Bedford," he said. "They won't get away with it this time."

Jackson has seen 20 state championships in his 30-plus years as head of the Athletic Department in CMSD. He reels them off quickly: Collinwood, nine; Glenville five; John Marshall and John Adams, two each; and East Tech and Rhodes, one each.

But an Ohio football championship? That would be saying something and in Jackson's mind would be the "biggest thing since East Tech's back-to-back state basketball championships" in the late 1950s.

"This would be emblematic, something to say to people who say, 'No good comes out of Cleveland,' " he said. "Not only that, but it's a blessing of God for Mr. Ted Ginn to now see the fruits of his labor after a debilitating illness."

Some would argue that Massillon Washington High, a storied football program and a perennial power, would count as a public school from an urban district that has won a football championship, but Ginn points out that since the playoff system was introduced, Massillon has not won a title.

"And we've got to win for that reason – to be an urban Ohio high school to win a football championship. ... How proud would the city of Cleveland be if we win?" he said. "We're trying to do this as a way of serving – as a service to the city, the District and the community.

Ginn doesn't talk in detail about his yearlong battle with pancreatic cancer, now in remission, except to say that last year at this time he was flat on his back in the hospital and didn't know if he would see his boys again, much less coach another game.

"I'm more determined today than ever because I've been on the doorstep of death and I'm blessed to be back here," he said.