Return to Headlines
CMSD students more prepared for college, report says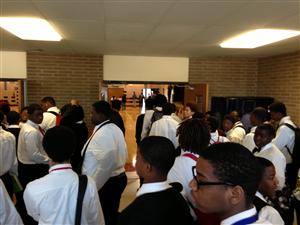 CMSD NEWS BUREAU
12/19/13
Mayor Frank Jackson launched the compact in 2011 to ensure that more of the city's students are ready for college, enroll in institutions and complete their education. The District works with the city, 18 colleges and universities in Ohio and Michigan and 49 nonprofit agencies and other community partners.
A rise in 2012 indicators was slight, according to the report, which was presented Thursday at the downtown Cleveland Public Library.
Still, more CMSD students graduated from high school on time that year -- a total of 59 percent -- and 26 percent of them had a grade point average of 3.0 or higher. Five percent earned college credit while still in high school.
A quarter of CMSD students also showed some readiness for success. Specifically, about 15 percent had ACT scores of at least 21 (the minimum set for college preparedness by the exam's governing board), and more than a fourth scored at least 18, a sign that they can succeed with a strong support system, according to CMSD Chief Executive Officer Eric Gordon.
Some Cleveland students outpaced their counterparts statewide in graduating on time: Nearly 90 percent of students graduating from six "new and innovative" CMSD high schools in 2012 finished in four years, compared with 80 percent statewide; 83 percent enrolled in college within a year, 1 point less than the state figure.
Not all the news was good: the 57 percent of this year's graduates who immediately enrolled in college was down from 61 percent in 2012. Lee Friedman, executive director of
College Now Greater Cleveland
, said the escalating cost of higher education may be discouraging students nationwide. College Now guides students and helps them obtain financial aid.
But on the positive side, 53 percent of this year's graduates completed at least one college application, up from 50 percent in 2012, and they submitted an average of five applications, one more than last year. The number of CMSD high school students using Naviance, computer software that helps plan for college and careers, stayed at 54 percent, but juniors and seniors logged on more often.
Gordon and other compact representatives acknowledged that they have far to go.
According to the report, retention, or "persistence," rates have remained flat or dipped slightly: Thirty percent of CMSD's 2007 graduates have completed four-year degrees. Less than half of 2013 graduates who enrolled in the compact's colleges and universities have made it to a second year.
Gordon said The Cleveland Plan, CMSD's state-approved blueprint for reform, and a new collective-bargaining agreement will help by providing more rigorous evaluation of teachers and compensation based on performance, not tenure. He said the district has launched a more challenging curriculum, has used new levy money to restore advanced-placement courses and is working with Cuyahoga Community College to get early identification of students who need remediation to be ready for college.
Colleges and universities in the compact are providing academic, financial and social supports that help students remain on track for graduation from the institutions. John Carroll University provides "care teams" that make sure students have the skills to "navigate and persevere," said Brian Williams, vice president for enrollment.
The institutions have agreed to share "student-level data" dating back four or five years, said Maggie McGrath, project director for the compact. She said the information will allow tracking of students who transfer and and help identify predictors from high school that correlate to success or failure in college.