Return to Headlines
Task force seeks expanded access to prekindergarten
CMSD NEWS BUREAU
1/10/2014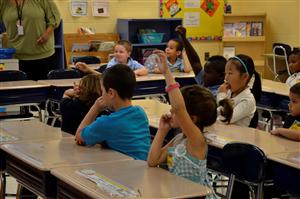 For perspective on the importance of preschool, talk to teachers who work with children in kindergarten or first grade.
They can tell you about having to play catch-up with students who don't know their letters, numbers or colors. What it's like dealing with a group when some children have yet to hone social skills – for example, sharing. Or how their job is complicated because the youngsters have not been exposed to illness that builds immunity, and, thus, are often absent.
To guide as many of Cleveland's 3- and 4-year-olds as possible to this critical resource, a task force that includes CMSD is exploring ways to expand the community's access to high-quality prekindergarten programs.
How to broaden access has not been determined, nor has funding. Public meetings will be conducted Jan. 13-16
(see schedule)
to solicit comment on what the community wants and needs. You could also give your input on the
Pre-K survey
.
The task force represents 30 to 40 groups spanning education, government, business, clergy and child advocacy. Its charge is part of
The Cleveland Plan
, CMSD's blueprint for reform. CMSD Chief Executive Officer Eric Gordon is co-chairing the task force along with Marcia Egbert, senior program officer for health and
human services at the George Gund Foundation.
"Investment in high-quality pre-K is the best financial investment a community can make," Egbert said. "It impacts a child at a stage when it will have the longest lasting benefits."
CMSD offers prekindergarten, largely at its own expense because the state generally doesn't supply funding. But the classes presently serve only 1,375 children ages 3 through 5; current kindergarten enrollment is more than double that number.
The conversation in Cleveland parallels one that is taking place nationwide.
New York City Mayor Bill di Blasio, who was sworn in this month, has established funding of preschool for all 4-year-olds, regardless of income, as his top priority.
President Obama proposed preschool for all in his 2013 State of the Union address. The Strong Start for America's Children Act, which would fund preK for lower income 4-year-olds, was introduced in Congress in November.
Nobel Prize-winning economist
James Heckman
is a proponent of expanding preschool, arguing that investment would pay off in the future by reducing poverty and crime and strengthening the workforce.
"Folks around the country – voters, communities, elected officials – are paying attention to the early years," Rhian
Allvin, executive director of the
National Association for the Education of Young Children
, said in an interview. "It's a drumbeat we've had for a very long time."
Allvin and others say the period of birth to 5 years old is a critical stage for developing cognitive, motor and social and emotional skills, a broad range that extends from literacy to an appreciation for the values of persistence and teamwork
Jeannie Clarkson, a kindergarten teacher at CMSD's Joseph M. Gallagher School, said some of her incoming students can't distinguish letters from numbers, count orally from 1 to 5 or answer "why" questions. She said she spends extended time working with those children in small groups or one-on-one.
Aida Hoxha, who teaches first grade at Gallagher and formerly taught kindergarten there, said some of her students are still struggling with letters, numbers and sounds. She detects a noticeable difference in those who were enrolled in
prekindergarten at the school.
"They are strong in whatever they learn, their skills," she said. "They retain information."
Youngsters who live in Cleveland's high-poverty areas deal with poor nutrition, anxiety and other barriers to learning, said Dr. Christine Alexander, interim chair of family medicine at MetroHealth Health System. She said those children can get lost if thrust into global academic competition without preparation.
"It's like trying to be in a race, and they're in a car and you're on foot," she said.
It's important that preschool programs be top quality, with teachers who are prepared and parents who are partners in their children's education, said Monica Miller Marsh, director of the
Kent State University Child DevelopmentCenter.
The center, a nationally recognized laboratory for early-childhood teachers, employs an "inquiry" model that lets children's curiosity about the world drive instruction. Miller Marsh said the center seeks to develop children as
individuals but with a "strong sense of community."
CMSD Chief Academic Officer Michelle Pierre-Farid an expanded prekindergarten system could take various forms. She said the service could come from a network of public and private providers as long as standards are met.
"We don't have to be the sole provider," she said. "We want to be one of the providers, but we want to make sure our kids have access to it."
Egbert said the task force has studied preschool initiatives in San Antonio, Denver, Boston and New Jersey. She said the group also wants to build on existing area programs, like Cuyahoga County's
Invest in Children
partnership.
By February, the task force hopes to have the elements of its plan, Egbert said. She said the plan will be a "detailed roadmap" showing what constitutes a high-quality program and how it can be implemented.
Work groups are sorting through issues that include which agency will manage the expansion of preschool, how much money is available to pay the cost and how much needs to be raised, and what standards should be set for licensing and professional development.
Egbert said the first pieces of the plan should be in place by the 2014-15 school year. She said the task force is moving with urgency to makes sure as many children as possible have a chance to enroll in affordable, high-quality
prekindergarten.
"When they are, they can absolutely succeed," she said. "This is one of those instances in which we know exactly what to do."