Return to Headlines
District forms academy for aspiring principals
CMSD NEWS BUREAU
1/24/2014

Note: An informational session on the Aspiring Principals Academy, scheduled for Tuesday, Jan. 28, has been canceled because of weather. Two more sessions are planned.

CMSD is creating a pipeline of principals who will be tested and groomed for a year before taking over schools of their own.
Candidates selected for the Aspiring Principals Academy will go through an intensive five-week summer program that simulates the challenges of working in a District school. They will then serve a one-year paid residency alongside a District principal.
After being assigned to their own schools, the new principals will receive coaching for the first year.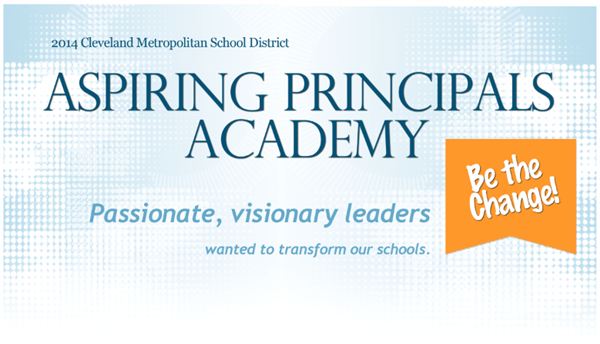 CMSD needs to restock on principals because a wave of retirements is on the horizon. In other cases, the District or the principals may decide that the job's increased requirements aren't for them. At least 10 candidates will be picked for the academy.
Replacements must believe in CMSD students and be willing to take bold steps to transform schools, said Lora Cover, who as CMSD's chief talent officer is in charge of recruiting.
"We need extraordinary people in those spots," she said. "The people who head up your organization are crucial to its success."
The NYC Leadership Academy is helping to develop the Aspiring Principals program.
Since its start 10 years ago, the NYC Leadership Academy has trained nearly 500 aspiring principals and coached more than 1,600 principals already on the job in the New York City schools. The academy works across the country to develop and support leaders who can create equity in education and foster student success, and so far has assisted 25 districts, states and universities.
NYCLA seeks to strengthen and support leaders so they can transform schools attended by themost vulnerable students, said Kathleen Nadurak, executive vice president of national initiatives.
Nadurak said the demands on principals have expanded from knowing the content in literacy and math to matters such as helping their schools meet the rigorous Common Core State Standards adopted by states nationwide.
"Common Core asks agroup of adults to change how we do the work," she said. "It's not just about the standards. It's about galvanizing the teaching staff in the school so they know they are taking risks together."
Shannon Matlovsky,senior director of the national initiatives program, has visited Cleveland to help the District customize its academy to fit local circumstances. She said the five-week summer program will thrust the aspiring principals into scenarios "grounded in the reality of a real Cleveland school" – for example, the way adults in the building typically interact or the school schedule.
Applicants chosen for the academy will be paid $75,000 a year plus benefits during their residency. They must pass evaluation during the program and commit to serving five years with the District.
Cover said the District hopes to find prospects in its teaching ranks but also is soliciting recommendations nationwide from organizations dedicated to education reform.
Information sessions are planned from:

Tuesday, Jan. 28, 4:30 to 5:30 p.m. at the Garrett Morgan School of Science, 4016 Woodbine Ave.


Wednesday, Feb. 26, 4:30 to 5:30 p.m. at the Barbara Byrd Bennett Professional Development Center, 11404

Lake Shore Blvd.,
Wednesday, March 26, 3:30 to 4:30 p.m. at the Barbara Byrd Bennett Professional Development Center.
Applications may be submitted online at http://clevelandmetroschools.org/Page/3293