Return to Headlines
President Obama's State of the Union includes reference to MC2STEM in White House online version (video)
CMSD NEWS BUREAU
1/29/2014
The District's innovative
MC2STEM school
was
given a prominent shout-out
during President Obama's 2014 State of the Union address Tuesday night in an "enhanced" version of the speech broadcast by the White House on youtube.
At the 27:12 mark of the speech, as the president is speaking about the need for "skills for the new economy" and more challenging curricula for students, a slide appears on the right-hand side of the screen saying: "We need more schools like MC2STEM High School in Cleveland, OH."
Photographs of students at the school also are featured.
Below are three bullet points that say: " 'Workshops with tutors from NASA,' 'Mentoring with engineers from GE Lighting' and 'Demanding internships with local businesses.' "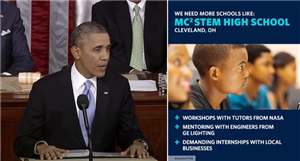 The reference to MC2STEM was not shown on broadcast television -- just on the online version put out by the White House.
It's not the first time that MC2STEM has been noticed by the White House.
In April 2013, the
school was mentioned in a White House Office of Science and Technology Policy paper
about STEM education in America, MC2STEM Principal Jeffery McClellan said.
He said he has talked with staff and students about the most recent national notice.
"We talked about what an honor it is to be mentioned in the State of the Union, but also what kind of responsibility comes with that," McClellan said. "We also recognize that we're blessed with strong community support and we have to continue to take advantage of those opportunities.
"It's nice to be recognized for what you've done or what you are doing, but you have to continue to work hard to meet those expectations."
That point is not lost on Michael Garner, a 15-year-old freshman who took a break from classes at the Great Lakes Science Center to talk about the school.
"It's an honor, but it's also about pressure – in the good sense," he said. "It's like even more can happen here and it's already a great school where we learn so much more by doing things instead of just doing worksheets or something."
Michael said a recent bridge-building project with wooden sticks and a sustainability project earlier in the year in which students designed solar panels for homes and autos were examples of that type of more interactive education.
MC2STEM
opened in 2009 with a freshman class
. The school now includes ninth-graders at the Great Lakes Science Center, 10th-graders at GE Lighting's Nela Park campus and 11th- and 12th graders at Cleveland State University.
The innovative school, which specializes in science, technology, engineering and mathematics,
celebrated a grand opening
of the KeyBank Classrooms in STEM Education at Cleveland State University on Nov. 18 along with leaders from the District, the university and KeyCorp.
The KeyBank Foundation contributed $1.25 million to renovate space for the students on two floors of Rhodes Tower and has given more than $2.5 million to STEM education in the District.
The facilities at CSU include a Fab Lab that is equipped with computers linked to laser-powered cutters and other machinery.