Return to Headlines
CEO demystifies student-based budgeting
CMSD Principals discuss SBB
CMSD NEWS BUREAU
2/25/14
A number of CMSD schools face cuts, but a new strategy that shifts more control of budgeting to individual schools is not to blame, Chief Executive Officer Eric Gordon told the Board of Education on Tuesday.
Gordon responded to the Cleveland Teachers Union's charges that the decision to give schools more autonomy is just cover for a move to slash spending and eliminate jobs. Teachers protested Tuesday as the board met at Buhrer Dual Language School.
New student-based budgeting, a core principle of
The Cleveland Plan
, allocates money to individual schools based on the number of students and needs such as special education, gifted education or instruction in English as a second language.
The idea is to put more authority in the hands of the people who know best what can help raise their children's achievement.
Student-based budgeting "is a net zero sum approach," Gordon told board members.
"What it does is distribute available dollars in a more equitable and transparent way."
The District operates more than 90 schools and has tentatively set their combined budgets at $391.8 million. The plan, which could change, would reduce the total given to the schools by $22.2 million. The decrease would compensate for the projected loss of nearly 1,500 students and help make good use of a levy that was approved in 2012 and will expire in less than three years.
CMSD plans to eliminate teaching jobs in each of the next two years but expects to avoid layoffs by not replacing teachers who retire or resign, Gordon said. He said the District pledged not to lay off teachers this school year and agreed with CTU to make the reductions over two years through attrition.
Principals Gerard Leslie of Marion-Sterling PreK-8 School and Erin Frew of New Tech West high school acknowledge that their building teams face hard budget decisions. They also welcome the increased accountability and said the pressure to stem enrollment decline will force them to focus on marketing.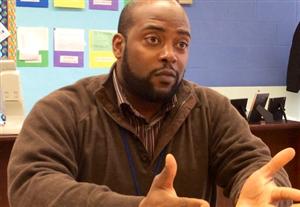 "Before you could blame it on someone else," Leslie said. "'It's their fault we didn't get it. These new people, it's their fault we didn't get the resources. It's their fault we didn't get the PD (professional development, or training).' Now, it's kind of like looking internally, what did your team choose."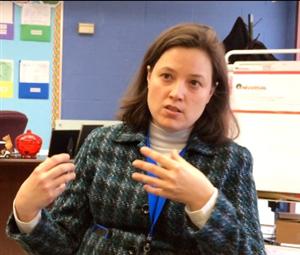 The two principals have embraced their schools' new autonomy and are happy that choices now rest largely with those who are most qualified to help their students overcome challenges.
"I'd rather my team of people and I make the decisions about how we are going to solve those problems because we know our kids," Frew said."They are living, breathing beings for us that we talk to every day and that we love."
Gordon said Wednesday that the District will consider complaints and could adjust the funding formula before the board votes on the schools' combined budgets in May.
"A lot of people have worked very hard on this and will continue to do so to get it right," he said.
The CEO also said he thinks the increased transparency of the process has contributed to the concern.
"You've never seen the budget in February or March," he said. "This is the sausage being made. You've never seen that before."