Return to Headlines
High-performing schools near capacity; CMSD students, families urged to choose for next school year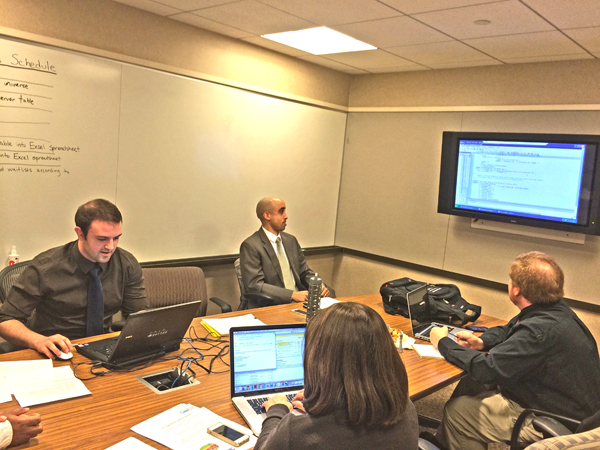 CMSD NEWS BUREAU
March 18, 2014

Student interest in the District's highest performing schools is so strong that most of those are already near capacity and families who do not act soon to choose their 2014-15 school-year home may not get their first choice.
Although only one school, Campus International, actually required a lottery this year, nearly all of CMSD's highest performing schools were 80 to 90 percent filled by midday Monday, after the lottery was run.
"Now we go into a full-court press to reach out to those families who have not made their choice for next year," said Kevin Alin, CMSD director of school choice and enrollment.
Families of students who have not yet selected their school will be contacted by phone, postcards, letters and eventually in person by District recruiters, he said. In the past, students were simply placed in their neighborhood schools, but in a portfolio, or choice district like CMSD, students and their families can select any school in the school district.
Enrollment was
strong enough to nearly warrant a lottery at James Ford Rhodes High School, Max S. Hayes career-technical high school, John Marshall's 9th Grade Academy, MC2STEM High School and the Cleveland High School for the Digital Arts. The digital arts school will be new next school year.
Interest also has been strong in another new high school,
Bard Early College High School Cleveland,
and the three high schools at the John Hay Campus:
Early College, the Cleveland School of Science and Medicine and the Cleveland School of Architecture and Engineering. Those are
not part of the lottery because they have specific criteria for enrollment. Bard, affiliated with Bard College in New York, will allow students to earn both a high school diploma and college associate degree at the same site in four years.
"One of the bright spots to all of this, one of many, is that our new schools have had great demand," Alin said. "At Bard, for example, as a result of great press and outreach, the community has heard of the school already and the response has been substantial."
CMSD has been encouraging families to decide earlier than in the past which schools they want to enroll students in for the 2014-15 school year. The deadline to be in the lottery was Feb. 28.
Students can still be registered by going to the School Choice Portal,
www.ClevelandMetroSchools.org/SRC
Families new to CMSD must first sign up at neighborhood schools or CMSD's Office of Student Assignments at 1111 Superior Ave.
"What we're really trying to empower families to do is to recognize that it's not us telling you what school to go to, but, rather, we're going to give you the information and the options and we look forward to you choosing," Alin said.
Alin said 1,933 students chose their school this year, and 1,486 of them were eighth-graders headed to high school.
"We had a solid response from the community," Alin said. "But it also means that there are another 1,300 eighth-graders who have not made a choice, and now we're going to be reaching out to them to communicate to them that there are various ways to still make that choice."
Students who have not made a school choice will have that reflected on their upcoming report cards.
"Having that on a report card, something telling them they haven't made their choice yet, is part of a culture change and showing our families that things are different now," said District Communications Officer Roseann Canfora.
"We're encouraged by the numbers of people who have come out and registered early, and we'll continue to advertise extensively and make the personal touches needed to help our families make those choices now and not wait until August."
Getting families to pick their schools is important for another reason, said Blessing Nwaozuzu, executive director of CMSD Student Services.
"Our scheduling and staffing at each school are predicated on how many students will be there, so students selecting schools as early as possible is very important," she said.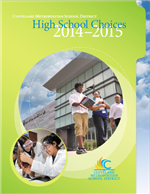 CMSD eighth-graders were given a comprehensive new high school catalog, and the District held a School Choice Fair at Cleveland State University's Wolstein Center. The catalog may be found online at
www.ClevelandMetroSchools.org
High-quality options are increasing under the District's new portfolio model, which allows students and families to pick the schools that best fit their needs. Students may attend any school if space is available and, in some cases, they meet admissions criteria.
Through open enrollment, that choice also extends to families and students in neighboring school districts.
The great interest in Campus International, which now has students in kindergarten through fifth grade and will add the sixth grade next year, made a lottery necessary this year.
When it happened, it was over in the matter of a single keystroke.
Adam Morello, a CMSD system analyst, hit the "execute" key on his laptop in a 17th floor downtown conference room, and within moments a computer program assigned every student who had enrolled districtwide and then spit out the results of a student lottery for Campus International.

"Here we go. ... That's it," Morello said as an algorithm crunched the names of nearly 2,000 students who had applied to attend the school of their choice.
Selections at Campus International are further complicated by a formula that gives weight to siblings of existing students, children of CSU employees and children of Cleveland residents -- in that order.
About 35 families were put on a waiting list after the lottery. The 99 families that were selected — nine by virtue of their CSU affiliation, 27 because of a sibling guarantee and 63 through the lottery — will be told that that their child may be enrolled in the school.
Here are answers to some frequently asked questions about School Choice:Q: What is the School Choice Portal?
A: Formerly called the SRC (Student Registration Center) CMSD's School Choice Portal is a web-based site where parents can submit preferred school assignments for their children. Parents need a user name and password before they can access this portal. CMSD parents can call 216-838-ENRL (3675) to obtain passwords. Families new to CMSD will obtain their passwords when registering at neighborhood schools or CMSD's Office of Student Assignments at 1111 Superior Ave.
Q: Where do I find information about schools?
A: A complete directory with school names, addresses and hours is available on the District website, www.ClevelandMetroSchools.org or by calling 216-838-ENRL (3675)
Q: What information or materials do I need to enroll?

A: The following documents are required: birth certificate, immunization record, proof of address (lease, utility bill, pay stub, bank statement, mortgage statement), withdrawal form, most recent report card or transcript, guardian's state ID and, if applicable, guardianship or custody documents.
Q: What if my child has an IEP or needs special assistance? I don't speak English. Where can we get bilingual support? I am homeless. What school supports do you offer?

A: Students with individualized education plans or those with suspected disabilities must contact the Special Education Office, 1111 Superior Avenue, 216-838-SPED (7733). Students who speak a language other than English or live in a household where another language is spoken must register at the Multilingual Welcome Center, 3145 W. 46th St., 216-404-5159 or 216-404-5113. Families who are homeless, doubled up with other families or in some other type of transition should contact Project ACT, 1111 Superior Avenue, 216-838-0210.
Q: Will I automatically get my first choice of school?

A: Requesting a school does not mean automatic acceptance. Some schools have acceptance criteria or specialized programs. Some school choices are determined by lottery because of the high demand.
Q: How does the lottery work?

A: Through the online School Choice Portal, we try to assign students to their preferred school choice, but the process is limited by building capacity or available services. To keep the process fair, the system assigns students based on a random lottery. If a building is full, names will be put on a waiting list. Siblings who live at the same address will have the same random lottery number; if they choose the same school, it is likely they will remain together.
Q: When and where are lottery results published?

A: Results will be published in the School Choice Portal and will appear on the third marking period report cards.
Q: What about transportation?
A: Students in grades 6-12 who live more than a half-mile from school will be given RTA swipe cards that will allow them to ride RTA from 5:30 a.m. to 8 p.m. every school day. The cards are not valid on holidays, weekends or on scheduled school vacation days. Students in kindergarten through fifth grade who live more than a mile from school, or who otherwise qualify, will be provided transportation on yellow buses. Call 216-634-7020 for information./