Return to Headlines
Watch video of Scarabs past and present rally for East Tech basketball team heading to state Final Four
CMSD NEWS BUREAU
3/20/2014
East Tech High was alive with the glory of the past, the thrill of the present and the promise of a successful future Thursday. Scarab basketball greats and fans from the state champion 1958, 1959 and 1972 teams joined current fans to send the 2014 team off to the Ohio high school Final Four Friday night against St. Edward.
Coach Brett Moore, reacting to media characterizations of the 24-3 Scarabs as "David" against the highly ranked Eagles playing the part of "Goliath" from the Biblical tale, whipped the crowd up by contradicting that thinking and acknowledging the previous East Tech champions.
"We're the giant. ... We're the giants," he said. "And you've woken us up."
The team secured its spot in the OHSAA Final Four by defeating Uniontown Lake, 62-60, in a down-to-the-wire overtime finish to win the Division I Region II championship. The Scarabs will face the St. Edward Eagles (24-2) at 5:15 p.m. Friday at the Jerome Schottenstein Center at Ohio State University. Tickets are available at the door.
Moore introduced each of his assistant coaches and players and thanked the fans and community for supporting the team.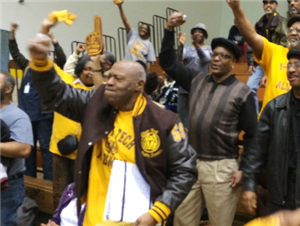 He was preceded by a lineup of past champions (see video), including Ike Smith of the 1958 state championship team and then Lamoyne Porter of the '59 champs. East Tech was
a perennial powerhouse for parts of three decades,
making the state Final Four in basketball 10 times from 1956-72 and winning the three titles.
Both men urged the 2014 team to remember the glory of the past, but to carve their own way -- and to remember that they are representing not only East Tech, but the Cleveland Metropolitan School District and the city, as well.
Former Ohio State and NBA player Brad Sellers, now the mayor of Warrensville Heights, was the master of ceremonies for the event, which also included the school band, cheer team, Principal Temujin Taylor, Ward 5 Councilwoman Phyllis Cleveland, CMSD Chief Operations Officer Pat Zohn, NAACP President Rev. Hilton O. Smith, alumni representative Greta Stakely-Humphrey and East Tech Athletic Director Joe Dallas.