Return to Headlines
CMSD student entrepreneurs build their own business as part of 'Lemonade Day' (video)
CMSD NEWS BUREAU
3/26/2014
Koran Mathews was suddenly stumped.
The seventh-grader, a member of a trio at Kenneth W. Clement Boys' Leadership Academy who had been ably pitching their tropical-themed hot dog-and-lemonade stand for and event called
"Lemonade Day"
to three financial experts Wednesday, was now sweating it out.
The three boys, surrounded by flip-flops, grass skirts and other reminders of a day at the beach, were standing behind a decorated lemonade stand inside a classroom and facing their own CMSD version of "Shark Tank," the popular ABC-TV show where real-life contestants have to pitch investment ideas to an often unfriendly panel.
"What if you don't sell all your hot dogs, how's that going to affect your profit margin?" asked Donald Fann of the
Council for Economic Opportunities in Greater Cleveland
, one of three "bankers" hearing the pitch from the young entrepreneurs in preparation for Lemonade Day, a national initiative to help students think about starting their own businesses.
Fann was joined by Kelly Drake, manager of a KeyBank branch in East Cleveland and Jessie Jones, assistant director of Lemonade Day NEO.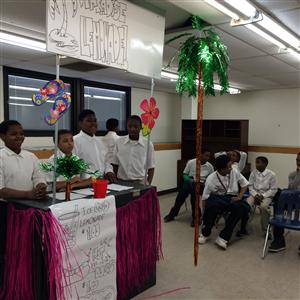 "We didn't expect that or know what the answer would be right away," Koran said. "But we think we're going to sell a lot of hot dogs for $1 each and make a lot of people in the school happy that day."
"That day" is actually four days — April 24-25 and May 1-2 — when the Tropical team and a handful of others from Kenneth Clement will hawk their wares at a school bake sale.
About 200 students from Kenneth Clement, Riverside, Orchard-STEM, East Clark and Dunbar schools will participate in the lemonade stand exercise. The teams will all be awarded real money to buy supplies for the lemonade sale, and many teams have added other items like pizza and nachos.
The District's first venture into Lemonade Day was made possible by a grant from KeyBank.
"KeyBank is proud to partner with the Cleveland Metropolitan School District for Lemonade Day," said Lisa J. Oliver, KeyBank market president and regional sales executive. "Financial education is an absolutely essential part of today's curriculum.
"The earlier we teach our children the principles of responsible financial planning, the stronger the foundation for future success. Lemonade Day is a fun and innovative way to teach the value of a dollar at an early age."
Kevin O'Connell, an English and social studies teacher at Kenneth Clement who is training the students, said the real-life application of actually applying for funding for a lemonade stand makes the idea of entrepreneurship come to life.
"The kids are learning, thinking on their feet," said O'Connell, who donated some of the materials for the students' lemonade stands and often urged them on with animated gestures as he walked around the classroom Tuesday. "They're asked questions off the cuff and they have to think off the cuff, so there's a lot of problem-solving and teamwork."
The Lemonade Day initiative is being incorporated into CMSD's "Entrepreneurs in Training" program, which eventually will include all students in grades 4-8, said Lavora "Gayle" Gadison, a social studies content expert with the District.
Both the CMSD program and Lemonade Day, which originated at University School, are supported by grants from the
Burton D. Morgan Foundation
.
"We are very excited about our partnership with CMSD and hope to see the program grow across the grade level after this pilot project this year," said Lemonade Day's Jones. "The goal is that Lemonade Day will be a capstone experience for seventh-graders in a series of entrepreneurship education."
The District partners with the Western Reserve Historical Society to teach students about the roots of entrepreneurship in Northeast Ohio through field trips to its Crawford Auto-Aviation Museum and Hale Farm and Village and The History Center.