Return to Headlines
State will give CMSD computers seized in gambling raids
CMSD NEWS BUREAU
4/2/2014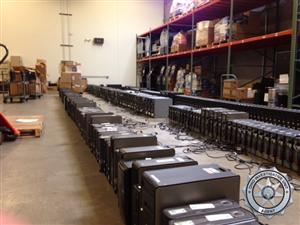 CMSD will find legitimate uses for hundreds of computers seized in gambling raids at Internet cafes.
The Board of Education will vote April 29 on accepting 654 computer monitors from the Ohio Department of Public Safety's Ohio Investigative Unit. The monitors will come with 654 computer cords, 640 computer mice, 631 keyboards, 525 hard drives, eight televisions and numerous firewalls, routers, card readers and web cameras.
The computers were confiscated from nine Internet cafes in Cuyahoga County, part of a network that used software supplied by New Jersey-based VS2 Worldwide Communications. The investigative unit's Cleveland office handled the case, along with the county prosecutor's office, Secret Service and Parma Heights police.
Supporters maintained that the cafes were legitimate businesses that sold Internet or phone time and let customers play slotslike computer games for cash as a marketing strategy; critics said operators were running neighborhood casinos. The industry collapsed in Ohio last year after state legislators banned cash jackpots and capped the maximum value of other prizes at $10.
"Several Cuyahoga County residents said they were extremely pleased these locations were shut down," said Greg Croft, agent-in-charge of the state investigative unit in Cleveland. "We're a better community for it."
The computers will replace the District's oldest stock. Euclid Park PreK-8 School will be the first recipient.
VS2 pleaded guity last September to a reduced charge of attempted racketeering and gambling, paid a $10,000 fine and agreed to stop doing business in the state. Assistant Agent-in-Charge Robert Boldin said the case has resulted in 29 convictions and a number of
fines, but no jail or prison time.
State investigators said they chose CMSD for the donation because the District covers a large portion of the county and has an information technology department that can handle the volume of computers.
Boldin said most of the equipment is three to four years old. He estimated the total value at at $350,000 to $400,000.
There is no need to worry that students will come across games of chance. The Secret Service erased the hard drives.