Return to Headlines
Cleveland Orchestra to play concert at Memorial School on Thursday; students practice dances, appreciative listening (video)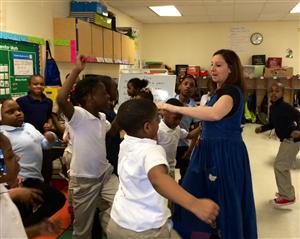 CMSD NEWS BUREAU
4/2/2014
The students in Stephanie Bluffstone's classroom we're busy getting their march on Wednesday afternoon.
But the first graders at Memorial K-8 School also made time for a nice waltz or two as the day wore on and as another new Cleveland Orchestra selection came up on their teacher's CD player.
(Watch video here
, on our Facebook page)
"Here we go! I need good marchers," Bluffstone called out as more than a dozen first-graders pounded out the time with their feet as Ravel's "Mother Goose Suite" played in the background.
Just down the hall, the students in grades 3-5 in Angela Bowman's class were comparing how various pieces of classical music made them feel as they listened.
"I like Hip Hop, too, but it's usually really fast," said one girl. "This is slower and makes me think differently because it's an orchestra and it's different."
Tomorrow, the entire student body and staff at Memorial will experience the real deal: The Cleveland Orchestra, led by conductor Kelly Corcoran, will perform a one-hour show "Fairytales in Music," featuring excerpts from Mother Goose, Sleeping Beauty, Cinderella, Aladdin, and more.
The program, paid for by a grant from the Lerner In School Performance Fund, begins at 1 p.m. in the school gymnasium and is the Education Concert program the Cleveland Orchestra played for other schools earlier in the week at Severance Hall.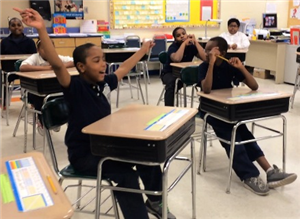 When the 60-piece orchestra arrives and begins its performance, Memorial Principal Lori Rondo is convinced that her students will learn an even greater appreciation for a music heritage that might be new to some of them.
"We may not listen to a lot of orchestra music in our African-American homes, but once you are exposed to it, you can learn to appreciate it, enjoy it and embrace it," said Principal Rondo, who said she played violin in a college orchestra. "This experience will give something to our students that they may not otherwise have and bridge that gap."
She said some of her teachers embraced the orchestra visit more than others, incorporating the upcoming visit into various parts of their curriculum.
"To see the joy on the kids faces when an orchestra violinist came in to demonstrate some of the music earlier was amazing," said third-grade teacher Jodi Kirk, who has been teaching at the school for five years. "This is why I teach, to see them grow and learn."