Return to Headlines
Cleveland Orchestra plays "Fairy Tales" at Memorial K-8 School (photo gallery)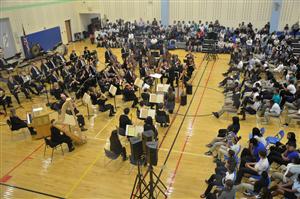 CMSD NEWS BUREAU
4/3/2014
Conductor Kelly Corcoran and The Cleveland Orchestra took the Memorial School students on a journey Thursday afternoon, bringing classical music and classic fairy tales to life in a one-hour performance in the school gymnasium.
Corcoran explained how music can function as "wordless stories" once you understand how certain instruments represent actions or characters in the fairy tale.
"You'll hear the wicked step sisters awkwardly and clumsily practicing their steps — and that is the two solo violins," she told the audience, setting up "The Dancing Lesson" portion of "Cinderella" as the two violins purposely squawked out the cadence of the dance.
Later, with animated hand motions and instrument support, she described the seemingly chaotic festive march in the "Aladdin" piece: "You can imagine a big procession moving through, with elephants and camels and dancers. It's a great, big extravaganza!"
After opening with The Star-Spangled Banner, the 60-piece orchestra played through selected portions of Englebert Humperdinck's "The King's Children," Sergei Prokiev's "Cinderella," Maurice Ravel's "Mother Goose Suite" and Carl Nielsen's Aladdin before concluding with a rousing waltz from Tchaikovsky's "The Sleeping Beauty."
The concert, among a rare few the world-renowned orchestra does outside Severance Hall or a similar concert hall, was made possible by a grant from the Alfred Lerner In-School Performance Fund. Memorial Principal Lori Rondo also credited Margaret Craig of the Northeast Shores Development Corporation for bringing the parties together for the performance.
Hundreds of Memorial K-8 students watched the concert, some sitting silently, but others actively conducting on their own or swaying and stomping to the different pieces.
"They need to move in order to really feel the music, I think," said first-grade teacher Stephanie Bluffstone, who
taught her students to waltz and march
in the weeks leading up to the performance by The Cleveland Orchestra. "There's a time for sitting still, too, but some of this music has to be felt."